Accepting international payments has allowed businesses to expand globally and take it to new markets with growing opportunities. However, this presents challenges like providing preferred payment options and currencies, addressing fraud concerns, and managing tracking and reconciliation. PayU International Payment Gateway makes accepting international payments easy and fuels global growth.
What is International Payments?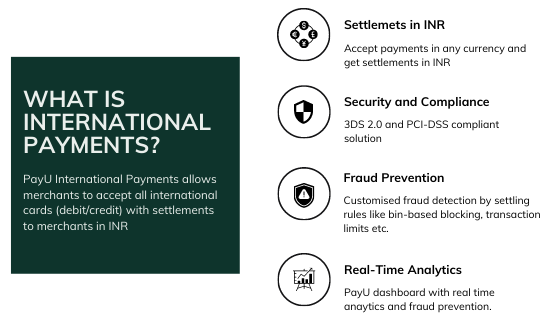 While accepting international cards allows for global payments, what is crucial in making this experience more seamless is enabling a localized currency experience for customers using Dynamic Currency Conversion (DCC).
What is Dynamic Currency Conversion?
PayU's Dynamic Currency Conversion (DCC) enables merchants to offer goods or services priced in foreign currencies while receiving settlements in ₹. This benefits customers by allowing them to easily understand and pay in a currency of their choice or preference.
How is PayU one step ahead of others?
From Yen to Dinar to any currency in the world, PayU Dynamic Currency Conversion enables merchants to accept payments in over 130 currencies, making it the industry leader in currency coverage. This enables merchants to accept international payments from anywhere in the world.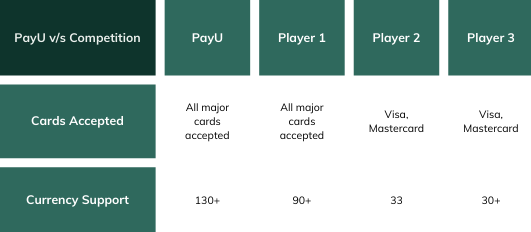 How do 130+ currency options help businesses and customers?
This feature brings several benefits to businesses and customers.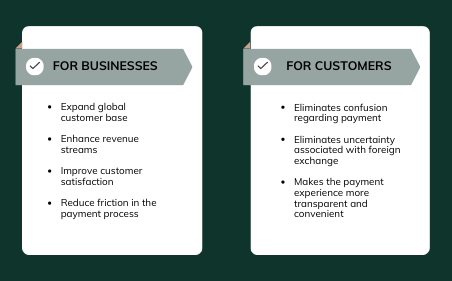 How can PayU merchants accept payments in 130+ currencies?
Enabling this feature for merchants is a simple process. To start accepting international payments, reach out to care@payu.in To enable 130+ currency options or to customize currencies for accepting payments, you can reach out to care@payu.in

Frequently Asked Questions (FAQs):
How are currency conversion rates determined?
Currency conversion rates are determined based on the foreign exchange rate file PayU receives, shared by the network. These rates are shared with PayU daily with a timeline indicating when they are valid.
Can merchants select specific currencies to accept payments?
Yes, merchants have full control over the currencies they wish to accept. Our team will help you configure the desired currency options.
Which currencies are supported by PayU International Payments?
We support 130+ currencies, including Dinar, Yen, American Dollar, Euro, Pound, etc. You can check out the entire list of supported currencies here.