Are you struggling to calculate GST? You can calculate your GST using a simple online tool called GST calculator. It can help you calculate the GST amount you need to pay without human error. This article covers everything about GST. Let's have a look at it in detail below:
What do you mean by GST?
GST, also known as Goods and Service tax, is an indirect tax. It was imposed by the Government of India on the national supply of services and goods. GST has replaced many indirect taxes in India, namely, VAT, Service tax, excise tax, etc. The goods and service tax is applicable throughout India.
Types of GST In India
GST is divided into four different types. They are listed below:
The Central Goods and Services Tax: CGST is the tax levied by the Central Government on goods and services transactions within the state.
The State Goods and Services Tax: SGST is the tax levied in every state by the state government on the interstate supply of goods and services
The Union Territory Goods and Services Tax or UTGST: UTGST is the tax levied by the Union Territory Government on the transaction of goods and services in the Union Territory.
The Integrated Goods and Services Tax or IGST: IGST is the tax levied on interstate goods and services transactions and applies to export and import. The Central and State governments share the taxes under IGST.
GST rates in India

The GST rates for essential items are low and high for luxury items. Goods and service rate slabs include different items according to set parameters.
GST Calculator: What is it?
Several GST calculators available online can help you calculate GST without much trouble. A GST calculator is an easy-to-use online tool that calculates the amount of GST that must be paid for a particular month or quarter, depending on the amount. It is used by various users, including wholesalers, manufacturers, etc.
The formula for calculating GST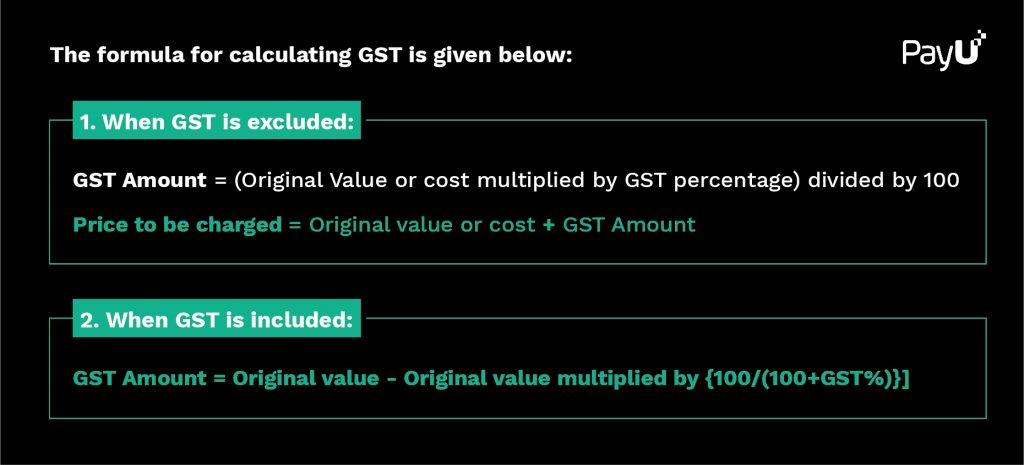 How To Calculate GST Online using GST Calculator?
There are many websites available online that offer GST calculators to help customers. These sites can be accessed from any computer and assist you in calculating your GST amount.
To calculate GST online using a GST calculator, follow the steps given below:
Visit a website that offers a GST calculator.
Now, select either GST inclusive or GST exclusive option depending on your requirements.
The next step is to add the quantity of the purchased product.
Afterwards, select the GST rate that applies to your product.
Now, click on calculate, and you'll get the final amount.
Benefits Of Using A GST Calculator Tool
Following are the benefits of using a GST calculator
GST calculator reduces the chances of calculation errors and saves time.
It helps to determine gross or net product prices based on percentage GST rates.
A GST calculator also assists in the computation of Integrated Goods and Services Tax.
Conclusion
Calculating GST has become easier because of GST calculators. Now, individuals and businesses can calculate it independently without much trouble.
FAQs
Why should I use a GST calculator?
It would help if you used a GST calculator as it reduces the chances of human errors and makes work easier.  
Can buyers use a GST calculator?
Yes, buyers can use a GST calculator. It can be used by various users, including manufacturers and wholesalers.