There are quite a few angel investors in India, and we discuss them in detail here. Angel investor companies in India have helped many startups to become successful over the years. Let's have a look at how angel investors are playing a vital role in shaping up the startup ecosystem below:
Private Investment in India
Fundraising is an essential factor that determines the success of a startup. If fundraising doesn't happen on time, then there are many chances that the startup might have to shut the shop. Thus, people who back these startups early are called angel investors or groups of angels in the angels' Network.
Like in other countries, startups in India like to go to angel investors for initial investments. Startups prefer angel investors in India compared to VCs. It is because angel investors ask for lower equity and the chances of rejection are lower than VCs.
While other options like investment banks, family offices, and private companies exist, angel investors in India offer unique market opportunities and mentorship.
List of Angel Investors in India
This list of angel investors in India is not exhaustive and mentions a few of India's top angel investment companies.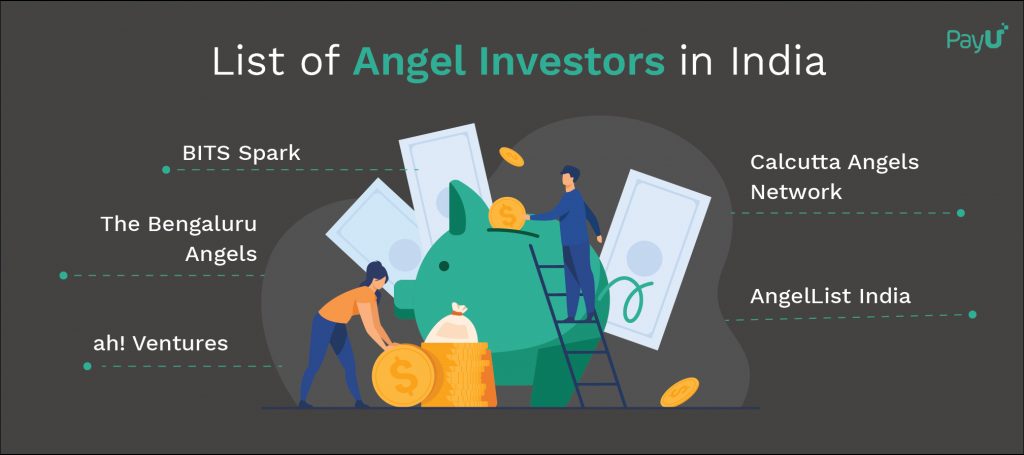 ah! Ventures
This angel of India was founded in 2012 and brought together investors and businesses. It creates opportunities for wealth creation for both companies and investors. This angel investor network has domain experience, industry, skill, and customized services to help investors and startups.
AngelList India
This angel investor network has its headquarters in Silicon Valley and entered India in 2018. It launched its popular platform "Syndicates." Syndicates allow investment opportunities to investors in tech startups. It includes angel investors and experienced VCs.
BITS Spark
BITS-Pilani alums created this angel in India. It started in 2015 and aimed at getting university-graduated students to get mentorship and funding. Faculty members, university officials, and students help startups with Spark.
The Bengaluru Angels
This angel network helps investors and startups alike. Startups and investors can build, interact, and explore business relationships. It allows startups to grow in their initial phase through mentorship, funding opportunities, and support.
Calcutta Angels Network
This angel of India is also known as CAN and started in 2013. It is east India's first angel investor network. It has around 75 members and has invested in 11 startups throughout India. They announced a partnership with the Mumbai Angels in 2018 and are working together.
Conclusion
Angel investors are called angels for a reason. They help cash-strapped startups with funding and guidance to reach great heights. Without angel investors, many startups would cease to exist and grow.
FAQs
How to pitch to angel investment companies in India? 
You can opt for either of the following two ways: 
Elevator Pitch: Several deals from across India are presented to the Secretariat. Network Members can refer to these for Elevator Pitch meetings. They can also come through the online process directly to the Secretariat. 
Approaching the Network: The members are integral to the Angel Network. Network members asses proposals individually, and once they are satisfied, they may recommend an opportunity to the Indian Angel Network. 
What does India Angel Network look for?
There are a few parameters apart from the business that the Network looks at. These are: 
If there are any barriers to entry or growth
Quality of management
Scope to add value
Validation of concept
High ambition
Does India Angel Network sign NDAs? 
India Angel Network doesn't sign NDAs. It only shares all its plans within the Network and between the members. Secretariat members and IAN members sign an NDA with the Indian Angel Network. 
What is the difference between Angel Investors and VCs?
VCs invest in specific sectors or areas. At the same time, angel investors invest in various domains. 
VCs usually have a 7-year life. Mainly the significant investments are completed within the first three years. VCs look for an exit after 2-3 years through buy-outs or mergers and acquisitions. 
VCs work within a statutory framework, and their process is more complex than angel investor funding. Angel investors directly invest in investee companies and have simpler methods.