Incubators highly focus on startups that are at the beginning of their development process and do not yet have a business model. They are frequently referred to as a "school for startups" since they support the growth of a firm by turning its good idea into a marketable product. Most of the time, incubators operate on a fee basis rather than acquiring an equity part of the firm.
We provide you with a detailed overview of the top 10 startup incubators in India, along with information on their services and areas of focus.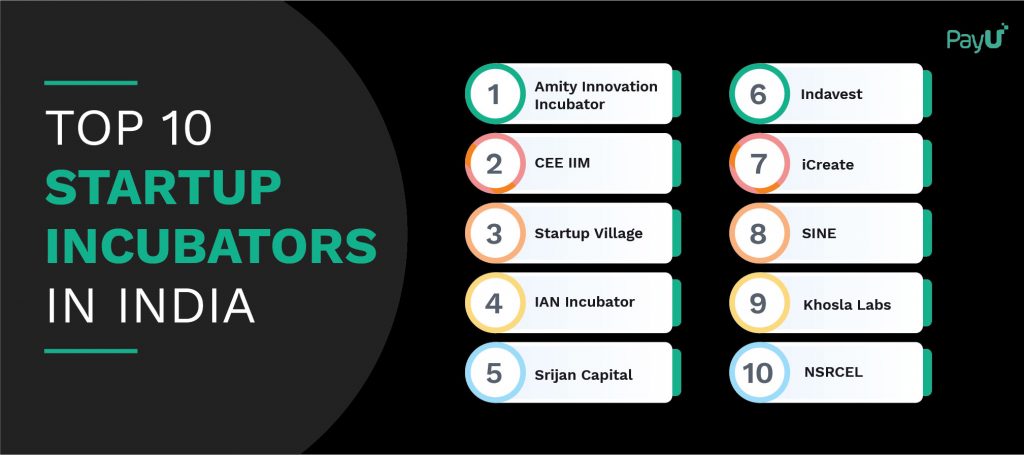 Amity Innovation Incubator
In the Indian universities' context, the Amity Innovation Incubator is a revolutionary idea. With the support of the DST, Ministry of Science & Technology, and GOI, the "Amity Innovation Incubator" has quickly established itself in an exciting position with the best start-ups that have consistently been at the forefront of innovation.

Amity Innovation Incubator is located in Noida and was founded in 2018. Their main focus is Information and Communication Technologies, Rural Innovation and Social Entrepreneurship, Food and allied Technologies, Biotechnology and Life Sciences, Nanotechnology and Material Sciences.
CEE IIMA
With assistance from the governments of Gujarat and India, IIM Ahmedabad established the Center for Innovation Incubation and Entrepreneurship, which is run by a separate not-for-profit organisation. To promote entrepreneurialism through incubation, ecosystem development, and educational efforts, CIIE collaborates with like-minded organisations and is made up of IIMA faculty, alumni, and other persons.
Their primary focus areas are Cleantech, Information Communication Technology, and Social.
Startup Village
Incubator for technology companies Startup Village is located in Kochi and has become the first incubator in India to get public and private funding. The Department of Science and Technology, the Government of India, Technopark Trivandrum, and MobME Wireless are the sponsors of Startup Village.
The principal mentor at Startup Village is Kris Gopalakrishnan, co-founder of Infosys and the most prosperous IT entrepreneur from Kerala. Its primary focus is on student companies from college campuses, with a 10-year goal of incubating 1,000 product startups. 2012 saw its founding.
IAN Incubator
The National Science and Technology Entrepreneurship Development Board (NSTEDB), Department of Science & Technology (DST), Government of India, provided funding for establishing IAN Incubator. The incubator supports business planning, hiring top talent, developing products, mentoring, obtaining early seed funding, forming partnerships at the national and international levels, and many other activities to help entrepreneurs turn their ideas into successful and lucrative ventures. IAN is well known for its extensive network of accomplished businesspeople, subject matter experts, academics, and seasoned professionals.
Srijan Capital
Srijan Capital offers technology firms seed stage funding. It encourages startups with a year-long incubation period situated in India or with India as a target market. Ecommerce, SAAS, mobile, social media, and consumer internet are their main focus areas.
Indavest
Providing access to the appropriate network and support, Indavest helps startups with funding, company strategy, and infrastructure. They were established in 2007 and are based in Bangalore. Ecommerce, mobile apps, customised gifts and branding ideas, payments, and software goods are their primary focus areas. Vyoma and General Sentiment are two notable startups that Indavest has supported.
iCreate
iCreate is a project of the Gujarat Foundation of Entrepreneurial Excellence (GFEE), a partnership between the Gujarat Mineral Development Corporation Limited (GMDC) and the Gujarat Entrepreneurship and Venture Promotion Foundation (GEVPF). For students and prospective business owners, it holds various seminars, outreach initiatives, networking gatherings, and other events. A 25-person batch participates in the grooming and incubation programme, which lasts 13 weeks.
SINE
SINE, or the Society for Innovation and Entrepreneurship, is a platform for promoting entrepreneurship at the Indian Institute of Technology Bombay. SINE is in charge of a company incubator that supports entrepreneurship in the technology sector. It features a 10,000 square-foot infrastructure and typically incubates 15 firms at once.
Khosla Labs
Vinod Khosla and Srikanth Nadhamuni founded Khosla Labs in 2012 as an innovation lab to concentrate on large-scale problems fueled by technology and entrepreneurial passion. Through internal design and technology groups, the projects are prototyped. On-site pilot testing of these prototypes is done to gather input and validate the market. Big data analytics, retail efficiency, healthcare delivery, and mobile payment & banking are their key areas of interest. They are located in Bangalore.
NSRCEL
The Nadathur S. Raghavan Centre for Entrepreneurial Learning (NSRCEL), established at the Indian Institute of Management (IIM) in Bangalore, promotes business growth through academic research by scholars and hands-on training for entrepreneurs. Since NSRCEL is an inclusive incubator, it does not make a distinction between IIMB alumni and non-alumni. 2002 saw the founding of NSRCEL. It finances the businesses it incubates with money from government programmes.
Conclusion
The above-mentioned incubators in India provide a good boost to the startup ecosystem in India. Entrepreneurs in India can rest assured that they will get good support from incubation center that are based in India.
FAQs
What is the primary role of an incubator in India?
Any incubator's main purpose is to assist emerging startups by giving them access to tools, industry mentors, networking opportunities, and maybe most significantly, patient money to help them get through the survival period.
How does an incubator support startups?
An organisation, platform, or group of seasoned experts can work as incubator. They support startups by helping them self-fund throughout their early phases and frequently offers coaching, as well as occasionally some investment. Incubators are typically the first stop for each aspiring entrepreneur.
Do startup incubators take equity?
The majority of the time, incubators operate on a fee-basis rather than acquiring an equity part in the firm.