The travel industry is growing exponentially in the coming years. According to India Travel Market Report, the Indian travel market stood at over $19 billion in 2021 and is expected to cross $40 billion by 2025. With a CAGR of about 10%, it is a highly fragmented market right now. Hence, there are ample opportunities for new players in the booming market. One of the major reasons for the travel industry's growth is – AFFORDABILITY.

Providing payment options like EMIs to customers, especially Tier 2 and 3 city-dwellers, enables them to make elaborate travel plans more cost-effective. As per reports, 5 in 10 people are now choosing EMI as their preferred payment option.
PayU is the preferred payment partner for the biggest travel players
Over 10+ online travel aggregators are integrated with PayU's Affordability Suite. PayU's integration has helped them clock a ~30% month-on-month GMV growth via EMI options alone in 2022. Owing to the present affordability trends, travel brands are actively opting for EMI and BNPL options. This not only helps increase conversion but also fuels growth.
For instance, India's biggest travel aggregator, with an average monthly traffic of 45 million, has shown continuous growth in GMV of 25% (month-on-month) using EMI options under PayU's Affordability Suite.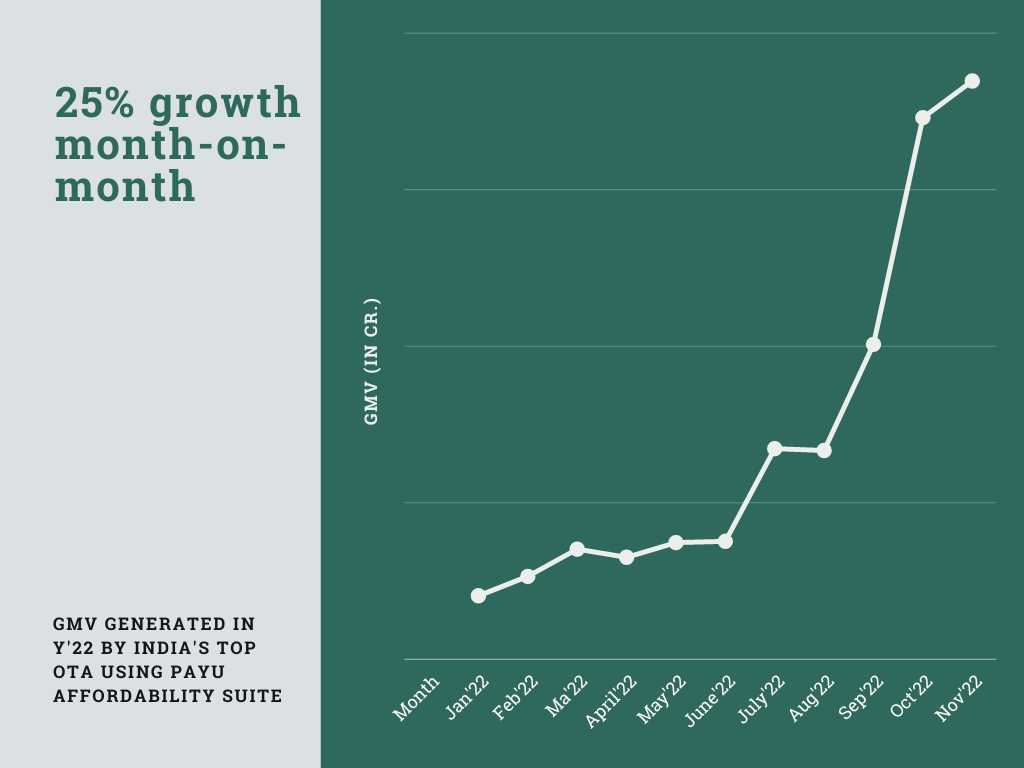 Other PayU products leveraged by OTAs
With PayU's Affordability Suite, India's top OTAs enjoy the highest coverage of EMI options. This includes credit card EMIs from 17+ banks, debit card EMIs from 6+ banks, cardless EMIs from 6+ providers, BNPL offers from 5 partners, and many no-cost EMI options.
In addition to these, PayU provides best-in-class API solutions. PayU also offers an Affordability widget that enables our OTA partners to provide a frictionless customer experience on their websites and apps.
These include:
| PayU's Affordability Suite Offerings | Descriptions |
| --- | --- |
| Native OTP APIs | Captures OTPs on the merchant's checkout page without redirecting customers to a bank website. This helps increase success rates by up to 5%. |
| Eligible BIN API | Helps you identify the issuing bank of the card bin & the minimum eligible amount for the bank. |
| Check Pre-EMI Eligibility API | Helps check the eligibility of Debit Card EMIs using customers' phone numbers. This, too, helps improve transaction success rates. |
| No-Cost EMI Integration | Helps convert high-ticket transactions by providing customers with zero-interest EMI options. |
| Offer Engine | Allows merchants to create and monitor various offers across different payment modes on a self-serve dashboard. |
List of PayU's Affordability Suite products
Click here to learn more about the product offerings.
PayU's Affordability Suite has helped players in the travel industry unlock a new level of growth. Moreover, PayU is continuously supporting them with best-in-class product offerings to improve their customer experience.
You, too, can power your travel business with PayU's Affordability Suite in just three simple steps. Click here to learn how.