We have thrilling news that's about to transform the way you do business. Picture this: you're chatting with a potential customer on WhatsApp, discussing your fantastic products and services, and when they're ready to make a purchase, they can complete the payment right there within WhatsApp. Sounds too good to be true, right?
Payments on WhatsApp Business powered by PayU
PayU and Meta have joined forces to create an end-to-end shopping experience right on the WhatsApp Business platform. From discovering awesome products to collecting payments, everything happens seamlessly within WhatsApp. What's more, your customers can choose from various payment options, including UPI, net banking, cards, and wallets, all without leaving the chat.
This fantastic feature is available to all businesses in India using the WhatsApp Business platform. It's a game-changer, allowing businesses to offer their customers a seamless shopping experience within WhatsApp. It reduces friction in the checkout process and increases customer conversion. It's faster, more convenient, and eliminates the need for redirection between apps or websites.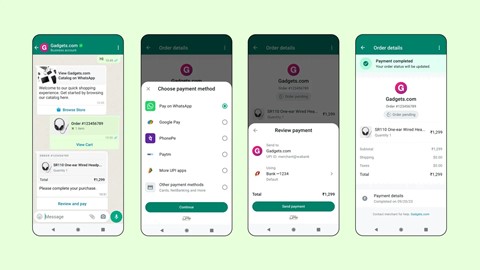 Benefits of WhatsApp commerce with PayU
For businesses
Businesses can provide a seamless end-to-end shopping experience within WhatsApp.
Offer diverse payment options, including cards, UPI, net banking, and more.
Easy setup by connecting your PayU account to start accepting payments directly on WhatsApp.
For customers
Choose your preferred payment method to complete your purchase without any hassle.
Get instant payment confirmations, view offerings, track your order, and check transaction history, all on WhatsApp.
Easily discover and reconnect with businesses you've recently transacted with.
How to enable PayU payments on WhatsApp Business
Enabling PayU payment solutions on WhatsApp Business is a breeze. All it takes is:
The WhatsApp Business API to integrate payments into the platform.
An active PayU account.
We've made integration super easy by enabling all major Business Solution Providers (BSPs) in the country, reducing your effort significantly.
Ready to get started? Set up PayU payments on WhatsApp Business now!
Sell where your customers are
The popularity of social platforms like WhatsApp is ever-increasing. The simplicity of the platform coupled with the power of online payments makes up a shopping experience that leads to higher reach, purchase volume, and brand value.
Say goodbye to cart abandonment and hello to closing every sale right in the chat. It's an exciting time for e-commerce, and we can't wait to see how your business soars to new heights with WhatsApp and PayU.
Get ready to turn conversations into conversions like never before! 🚀