When online e-commerce shopping was new to the market, it was difficult for people to trust it as a shopping mode. In that era, cash on delivery shopping was introduced to assure people they could pay only after receiving their order. This enabled the e-commerce platforms to earn customers' trust, allowing them to shift from conventional physical shopping to online shopping. In a rapidly digitised universe where payment methods are rarely in short supply, does cash upon delivery still hold ground? In the sections below, we will discuss this and more!
What Exactly is Cash on Delivery?
Pay cash on delivery service, also known as COD, means payment on product delivery. While most people prefer paying money at the time of delivery, one can also go for online payment modes powered by cards or UPI.
Why do Shoppers Prefer COD?
While the Digital India campaign is on the rise, you might find it surprising that payments through debit cards, credit cards, e-wallets or net banking still contribute up to 30% of all payments. That means more than the majority of the people still prefer cash delivery. But why? Let's find out: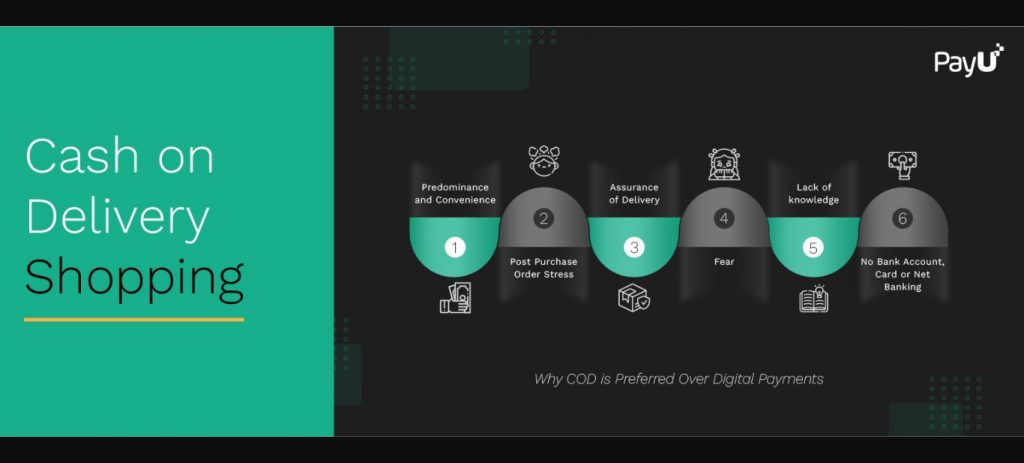 Fear is one of the foremost factors. India is a money-conscious society. Therefore, people still fear being scammed during online shopping and prefer paying cash upon delivery.
Delivery for cash is still the predominant and most convenient payment method. It provides ease of payment; you need to pick out money from your wallet and pay upon delivery.
Most people feel that post-purchase order transactions are stressful. This includes refund delays, non-receipt of refund, refunds not allowed by the concerned merchants etc. However, in the case of delivery with cash payment, if you want to cancel a transaction, then you can do so without extra stress.
Some people want to ensure they receive the correct product before spending money. After receiving the delivery, they open up and check the product before making the payment. If the product is not as per their needs, they can outright return it and deny the payment.
Many people don't know how to make online payments. Therefore, they pay cash on delivery to avoid wrongful costs.
You may not have a bank account, debit, or credit card to make an online payment. Therefore, your only option is to take delivery and pay cash.
In a Nutshell
The above reasons clearly show why COD dominates the online shopping payment space. However, to further encourage your customers to pay online, you need an efficient payment gateway that allows them to transact successfully in one go. PayU allows your customers to pay with 150+ payment modes, thus ensuring that payment convenience is no hassle for your business. So, start accepting payments with PayU now!
FAQs
What are the benefits of cash on delivery?
Following are two primary benefits of COD:
Flexibility: As a customer, one of the most significant advantages of COD is that you pay cash on delivery of the product. Moreover, it allows you to cancel anytime.
Lower Vulnerability to Losses: Since you pay only when the product is delivered, you don't have to worry about your money being stuck in a sub-standard product.
What are the difficulties as a result of COD?
Following are the problems that arise due to pay by cash delivery service:
Extra Cost: Delivery partners usually charge extra for COD transactions. This is because they have to handle the operational costs of the returned products to the seller. Further, the seller has to bear the cost of both forward and reverse logistics.
Cash Flow Hindrance: While digital payments are immediately transferred to the merchant, pay with cash on delivery delays the receipt of payments from the customer. This creates a working capital gap for the merchants, which hinders their operating cash flows. Also, refunds further make things complicated.
High Returns: COD provides a sense of safety to the customers, so they might not think twice before cancelling the order. The return ratio is large with the COD payment method, and the online business suffers if the customer declines the order.