Starting your business can be daunting, but it can be worth it. A reselling business involves sourcing products from suppliers, wholesalers, or manufacturers and selling them to end consumers. Reselling focuses on selling products that are already made, which is the opposite of a homegrown label or brand.
What is a Startup Company?
A startup company is in its operations' first stages. An entrepreneur is the founder of a startup company, and they create a business because they believe there is demand for that product or service. Initially, a startup company has higher costs and limited revenue. A startup company looks to get capital from angel investors or venture capitalists, etc.
A startup company focuses on a single service or product it wants to bring to the market. A startup company usually does not have a business model that is developed fully, and it lacks the capital to move on to the business's next phase. The founders fund them initially.
Reselling Business Ideas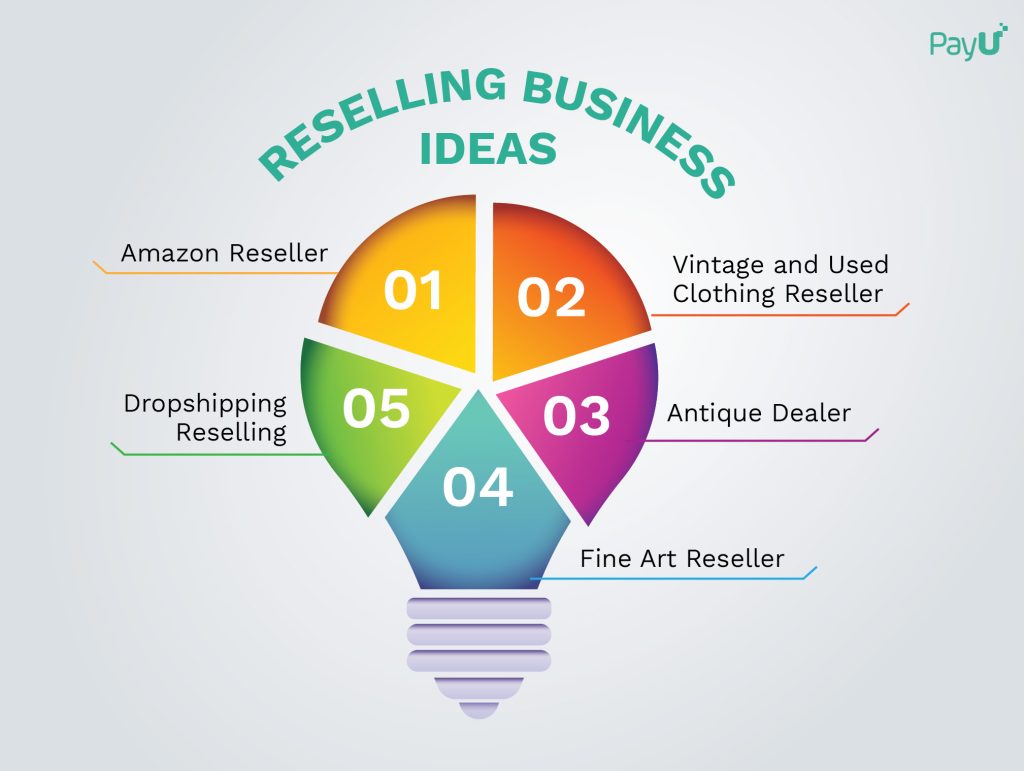 #1 Amazon Reseller
You can start your business as an Amazon reseller, and your startup company would not require a lot of capital. Amazon is the largest online retailer and can help you start your business. The model involves buying products first and then selling them to Amazon. Amazon resells it to other customers for their online stores.
#2 Dropshipping Reselling
You can start your business as a dropshipping reseller. It involves you selling products without having to keep an inventory. You can sell products online through your website or store, and you do not have to take the headache of shipping, packing, or keeping inventory. The dropshipping vendor ships the product(s) directly to your customers. You receive the profit margin, which comes from the difference between the wholesale cost and the retail price your customer pays.
It is a business model that many entrepreneurs have followed and become successful. Some even quit their job to become full-time dropshipping resellers.
#3 Vintage and Used Clothing Reseller
You can start your business as vintage or used clothing reseller. Under this model, you buy clothes from wholesale fashion designers, vendors, or manufacturers and add markup before reselling them in a flea market, your boutique, or your online store. Depending upon the designer and item, the standard profit margin for your business can be 50% of the retail price. An advantage of this reselling business is that clothing trends keep changing and the demand for new clothes constantly.
#4 Antique Dealer
You can start your business as an antique dealer if you love antiques such as jewellery, glassware, china, or furniture. You can buy antique products at estate sales, thrift shops, flea markets, etc., and resell them in an antique mart or online. You will have more shots at success if you choose products for the right niche market. An example can be early British furniture.
You can demand high prices if you have spectacular knowledge of antique pieces. You can start with a small amount of money and inventory and grow as you get more antiques.
#5 Fine Art Reseller
You can start your business as a fine art reseller if you find pieces that resell at high prices and are art savvy. You need to know what sells in the art market and be familiar with it. You should also have the money required to invest in it to start your business. You can build your art collection as you grow and become established, as the art pieces generally grow in value with time.
You can open an art gallery or become an art dealer to resell art. You can display the artist's work and make money by reselling their art.
How To Open A Business?
You can start your business by having an excellent idea. You need to research the market next and understand if your idea is feasible and how the current situation is in the market for your idea. The next step is to create a business plan with your startup company's objectives, values, mission, goals, and structure. An important step will be to obtain funding if you don't have it. You can use your savings, loans from friends or family, banks, etc. The next step is to ensure you have done the right paperwork and followed all the laws. Register your business and get the required permits and licenses. Choose and establish a location for your business, then start selling by running ads.