Online shopping has become highly convenient in today's world. Technological advances have enabled the consumer to perform daily need purchases, utility payments, bank transfers, vacation planning, and so much more with just a few clicks. But with all good things, there is always a side tail, and scamsters have always found ways to loot commoners.
Since UPI is a reasonably new payment mechanism, the tech is bound to face some threats from the ill-intended. Hence, it is wise to know about the common UPI frauds and how we can report them.
The Rising Problem Of UPI Fraud
With the Government's push towards digitalisation and progress to a cashless economy, UPI has emerged as the favoured mode of payment for electronic transactions. However, online payments have also led to the rise of con artists who prey on unsuspecting users on the Internet. The UPI frauds have grown to a large proportion, and many banks have started issuing precautionary alerts to customers. Even the Government has taken steps to try and curtail this problem.
UPI frauds are carried out in different ways. Let us look at some typical UPI fraud types.
Phishing: Phishing is one of the most common online financial frauds. Phishing involves stealing confidential banking details of customers by enticing them with bogus emails, instant messages or text messages. The tricksters send messages masquerading as some known or trusted entity to the user. The recipient is tricked into sharing login credentials in such an attack. The scammers then misuse these details to carry out fraudulent financial transactions.
Malware: Malware is software used by fraudsters to disrupt your computer or mobile. It allows the fraudster to gain unauthorised access to your device and steal or misappropriate information. It also deprives the user of access to their own device's data and threatens the security and privacy of the user.
SIM cloning: SIM cloning is a recent phenomenon in UPI frauds. As banks have made OTP and PIN mandatory for online transactions, the con artists have resorted to cloning the victim's SIM. In many cases, the victim's access to the SIM is blocked. The hacker then manipulates the victim's PIN and ID to carry out fraudulent UPI transactions.
Vishing: Vishing involves the trickster weaving a web of lies, fooling the victim into sharing UPI Pin and other details. It works with the trickster gaining the victim's confidence through a purported fake story. The victim is then induced to enter the UPI pin in the hope of either making a payment for some genuine need or being duped into believing that they would be receiving payment from the fraudster. Sometimes customers are also duped into making payments to misleading UPI handles that may resemble other genuine Ids.
What To Do If You Fall Victim To A UPI Fraud?
If you have had an unfortunate loss of money via any UPI fraud, it is advisable to bring it to the authority's attention immediately. It is prudent that you first save a copy of the messages, the UPI handle or the mobile number through which the fraud has occurred. It is also essential to note down the transaction ID numbers. The next important step is to change the pin of your or your UPI handle immediately.
How To Report UPI Frauds In India?
To report UPI frauds in India, the victim needs to follow these measures: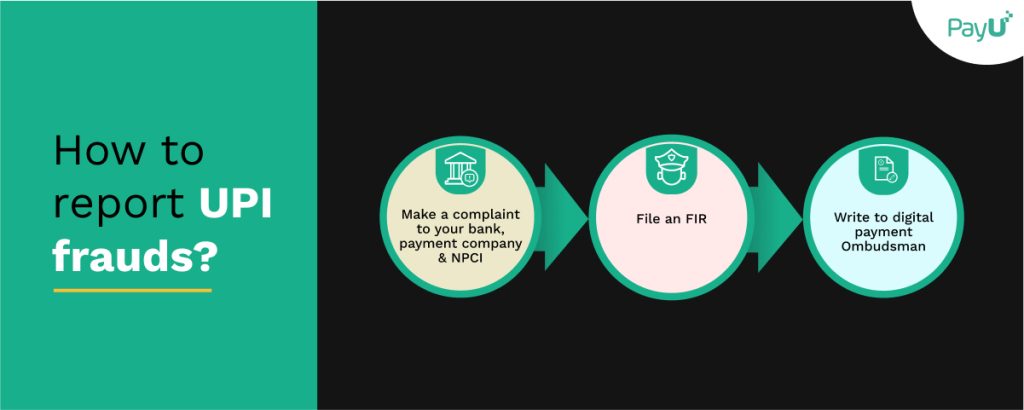 You must make the UPI fraud complaint to your bank and the payment company on which the fraud occurred.
File an FIR with the local police.
Raise a complaint with the National Payments Corporation of India (NPCI), detailing the entire chain of events.
Write to the Digital Payments Ombudsman with the entire history of the fraud.
RBI has launched a scheme whereby the Ombudsman can address digital transaction issues for redressal.
What Precautions Should One Take To Prevent UPI Frauds?
We can see that UPI frauds can be very damaging. It is essential to be vigilant in these challenging times and prevent UPI fraud. It is judicious to take extreme caution while transacting online. One should take care of all the following aspects:
1) Double-check all details while requesting or accepting payment requests.
Usually, we hurry to complete the transaction and make mistakes. Double-checking is the easiest way to save yourself from falling prey to the nefarious schemes of scammers.
2) Always note that there is no need to enter your PIN while receiving funds.
A confident trickster's modus operandi involves gaining the victims' trust and making them believe that they would be receiving funds by sharing their PIN. As soon as the PIN is shared, funds are withdrawn from the victim's account.
3) Take adequate notice of spam warnings on your UPI app.
Some suspicious handles are red-flagged on payment apps, and it is in our interest to adhere to these warnings.
4) Keep an eye out for malicious apps.
You should thoroughly investigate any suspicious activity on your device. It would help if you immediately took measures to safeguard your system when compromised.
5) Don't reveal PIN or OTP to strangers.
Sweet-talking or sometimes threatening gestures are used by swindlers to make you reveal your OTP or PIN. Be discerning and aware of such tricks at all times. Remember that no official representative would ever ask you to reveal these details.
6) Do not open messages when unsure of their authenticity.
It is always better to avoid opening any non-familiar messages or attachments.
7) Keep track of your account statements.
One should periodically scrutinise the account statements to look for any abnormalities.
8) Transact only through a secured and trusted internet connection.
Never carry out financial transactions on an open or unsecured internet connection. It could lead to disastrous results.
9) Set a limit for various types of transactions.
Setting limits will help you limit your losses in a worst-case scenario of someone duping you.
PayU India understands that data privacy is crucial in carrying out online transactions. PayU India, a trusted payment gateway for your business, takes precautions to ensure that your financial transactions are secure and hassle-free.
Conclusion
Always remember that UPI fraud detection is a time-consuming affair. Although India's UPI fraud recovery rate has been rising, the con artists still keep finding newer ways to dupe unsuspecting customers. Hence, it is wise to take precautions and be safe rather than sorry.
For a safe payment gateway experience, use PayU India and relieve your customers of any stress.
FAQs
Can I be a victim of UPI fraud?
Yes, anyone undertaking financial transactions via UPI is prone to the risk of fraud. Therefore, PayU India endeavours to provide a safe interface for its users to transact risk-free.
How can I prevent UPI fraud?
You can prevent UPI fraud by staying vigilant and taking all the necessary precautions. Double-check all your financial details and avoid disclosing such information to strangers.
How can I take action against UPI fraud?
Businesses and the Government of India are taking initiatives to reduce online financial fraud. But if you fall prey to fraud, you must report the happening to your bank, NPCI and file an FIR.