The Digital India campaign is on the rise. Running a cashless business has become the need of the hour. India is a prominent name in a club of digitally empowered nations with seamless digital payment systems. Various factors have inter-played to bring this paradigm shift in consumer behaviour, from cash-based to cashless. Let's look at some of them:
The introduction of UPI has made online payments simple. You just need to enter the phone number or scan a QR code, and you are done.
Credit card companies provide various perquisites and benefits for paying through credit cards. Reward points, free lounge access, etc., make credit cards a lucrative choice.
Like consumers, businesses can unlock a sea of possibilities by going digital. Here is a sneak peek:
Benefits of Digital Payment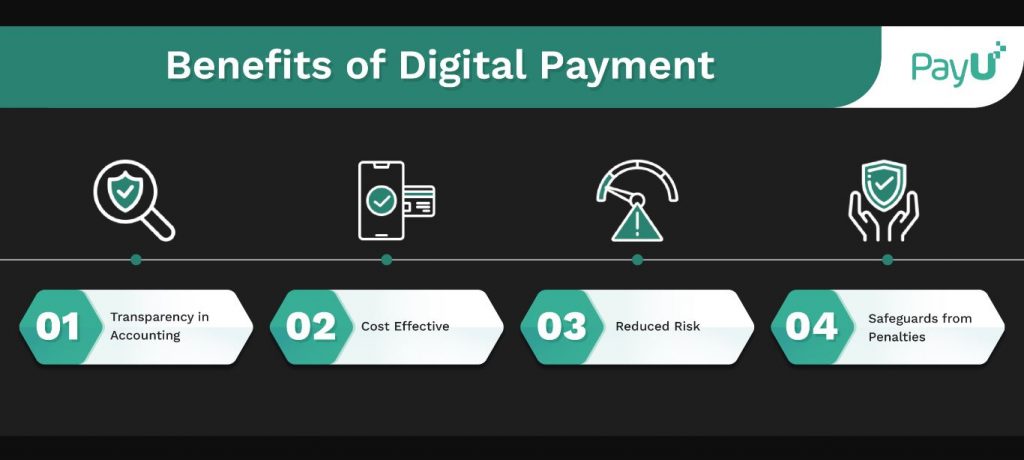 Transparency in Accounting
Digital payments can be tracked anytime, anywhere. You can access your bank statement or UPI wallet to trace back the transaction and verify whether a particular customer has made the payment or not. However, when it comes to cash payments, the only proof that you have is the accounts or books where you have recorded the transaction. Further, finding transactions in physical records can be time-consuming and cumbersome unless you have accounting software. Therefore, digital payments boost transparency in accounting and streamline small business management.
Cost Effective
Currently, there are no charges in UPI transactions. Further, a credit card allows you a credit period of 45-60 days. This significantly improves the working capital gap. As one of the many small companies in business, in the long run, you will find that digital payments are far more cost-effective and beneficial than cash transactions.
Reduced Risk
Cash is always susceptible to theft. You always need to be aware of who has access to money. Further, pilferage is common in businesses with substantial cash transactions. Shifting to digital payments can help mitigate this risk. The lesser the cash in hand, the lesser the worries!
Safeguards from Penalties
To ensure transparency in transactions, the government has established several provisions to ensure that business transactions remain transparent. You will find such provisions under the income tax law. For instance, you won't be able to claim a deduction for cash expenses over Rs. 10,000 daily. Therefore, making payments digitally through banking modes is always recommended to avoid penalties and disallowances.
Transitioning to Cashless: A Walkthrough
A few small business solutions are available to help prepare your business for the next-level growth story. Here are a few of them:
Be Familiar with Your Customer's Choice
One of the important small business Mantras-a small help that can make your business grow. Does your customer want to pay by cash or pay digitally? Furthermore, are they more comfortable paying by card or through an app? Understanding these nuances is essential for, say, situations where you spend a considerable sum on enabling app payments only to discover that most of your customers prefer card payments.
Offering Various Payment Options
Give your customers enough choices to pick from. Do not restrict them to cards or cash. Your business can become cashless only when there are enough digital payment options for your customers.
Safeguard your Payments
Whether you are a small business or a medium-sized one, security theft can cause you dearly. With hackers strewn all over the web, it is essential to safeguard your business interests by beefing up security around your payment or transaction systems.
In a Nutshell
Transforming your company into a cashless small business is not difficult. As the economy goes digital, you must move in tandem with the changing landscape.
PayU Payment Gateway has enabled businesses to provide customers with a seamless payment experience. With 150+ payment modes and one of the highest payment success rates in the industry, you can accept the payment in whatever ways your customer likes. Further, there is no bar to accepting international payments as well. Whether you have a small or big business, it's time to go digital!
FAQs
How does a good payment gateway provide help for businesses to go cashless?
Payment gateways are ideal small business solutions as your customers will pay online only if they experience a seamless payment experience. Therefore, investing in a good payment gateway that accepts payment through multiple modes and has a high payment success rate is essential.
Are there any disadvantages of digital payments?
Paying digitally can be a bit difficult for older adults. Further, there are chances of cyber attacks. However, a secure payment gateway can mitigate this risk.