The world has been fully digitalised since the introduction of services such as the internet, wifi, 5G, technologies, and applications. The banking and finance sector is also witnessing a switch from traditional money transfer and accounting methods to online transactions. This shift has led to a surge in demand for more and more advancements in the services offered by online banking and transaction platforms.
Such a feature, fulfilling the necessities of business owners and merchants, is the Split Payment Gateway.
What is the meaning of Split Payment Gateway?
Split Payment is a feature provided by the best online payment gateways to end the hassle of splitting payments with business partners, sellers, and vendors. The money in your account could be split into an 'n' number of account holders and your account.
How to open a Split Settlement account?
Split Settlement offers to have an account by fulfilling only a few bank details. PayU's automated instant account verification will ensure that all payments KYC and abidance requirements are met.
Setting up payment splitting logic:
Split payment proposes flexibility on the amount to be transferred to each receiver by percentage or by amount itself and when and to whom to settle the amount.
With every order sent to the online payment gateway for collecting payments, you need to detail PayU and how much amount you would settle to your partners/vendors or sellers.
Add account:
To begin with, setting up any transaction to various bank accounts is onboarding all the accounts on the payment gateway. The split settlement ensures a single dashboard for the onboarding of multiple accounts.
After completing the above-stated step, you will receive an account ID for all the accounts you've added. Storing these IDs in your database is a must.
You will be required to fill in the following details for onboarding an account:
Name of the account
Phone Number
Email
Account details like the name of the account holder, account number, IFSC Code, and bank name.
How do transactions operate in Split Payment?
Followed by the set-up of your split payment account is the transaction. You allocate the amount that must be split to every account you've previously added.
For instance, let us consider any order of INR 10,000 is credited to your account. You will provide the split details:
Seller 1: Rs. 5000 ( or 50% by percentage)
Seller 2: Rs. 2000 (or 20% by percentage)
Aggregator: Rs. 3000 (or 30% by percentage)
After the transaction has been processed, the online payment gateway you're using will debit 200 rupees and credit Rs. 9,800 into your internal balance. Then the money is transferred to all the respective accounts.
Seller 1: Rs. 5000
Seller 2: Rs. 2000
Aggregator: Rs. 2800
Reconciliation for Settlements
All the transactions made through your account to the different sellers and vendors are accumulated at the payout, and all the respective account holders will receive a settlement for the amount they have been credited with. Sellers can download all their settlements from the main dashboard. These settlement files can be shared by email as a single report where the vendors can download settlements for themselves and the other vendors separately.
Demands For Split Payment: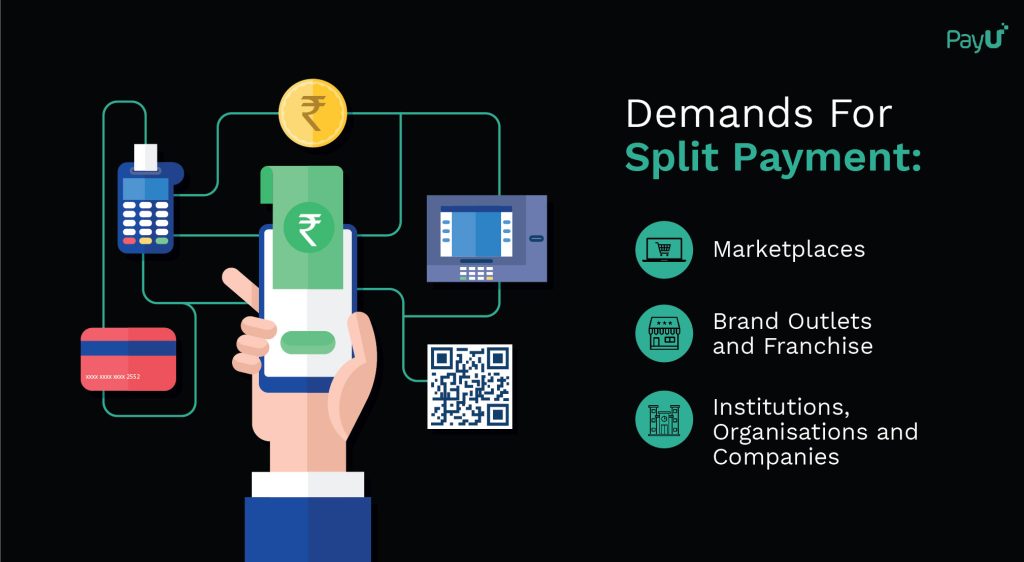 1. Marketplaces: 
Maintaining financial operations to settle the price of goods sold to sellers in the online marketplace is tedious. The payments made by the customers in a marketplace are subjected to splitting among different and multiple sellers.
The feature of Split Payment Gateway simplifies these split transactions and keeps an account of all the operations.
2. Brand Outlets and Franchise:
Businesses offering various brand outlets have routinely faced difficulties dividing payments across their branches. Efficient splitting of money becomes a gridlock for accountings. Here, split payment acts as a boon.
3. Institutions, Organisations, and Companies:
Companies and Institutions often need to distribute various payments such as fees, wages, and salaries to their employees, partners, and stakeholders. The online payment processors have a user-friendly interface, easy to understand and operate. These processors ensure automated reports of the settlements according to the logic set by you. Not only does it save effort and time, but it also gives accuracy and efficiency.
Frequently Asked Questions:
How do you manage settlements when multiple vendors are linked to a single transaction?
When adding the details, you can fix the commission or the amount to be received by the seller against each transaction.
Will I be able to change the assigned seller in a transaction?
No. There exists no option to retrieve the payment done to a seller associated with a particular transaction.