The payroll cloud industry has seen massive growth in the last few years. The global market will reach a whopping US$10.8 billion in five years (2027).
We will explain the benefits of the payroll cloud.
What is a Cloud Payroll System?
Cloud Payroll System is a payroll management system that manages, maintains, and collects data of employees to automate their payments on the cloud remotely. Good cloud Payroll Systems can help your business lower operational costs, and you can do that within the legal and financial rules. It helps manage employees from onboarding to exit with an internet connection and a computer. You can securely disburse the salary with just a click of a button.
Small and large businesses are slowly shifting to cloud payroll systems from legacy payroll systems because of cost savings and operational efficiency.
Payroll Process
A payroll process requires careful planning by the payroll officer. There will always be ongoing tasks that require constant attention and monitoring, such as social security funds, withholdings, etc. You can divide the process into pre-payroll, payroll, and post-payroll.
Pre-Payroll Activities
Defining Payroll Policy
Gathering Inputs
Input Validation
Actual Payroll Process
Post-Payroll Process
Statutory Compliance
Payroll Accounting
Payout
Reporting
Statutory Compliance in Indian Payroll
Benefits of Cloud Payroll Systems
Here are the key benefits of cloud Payroll Systems: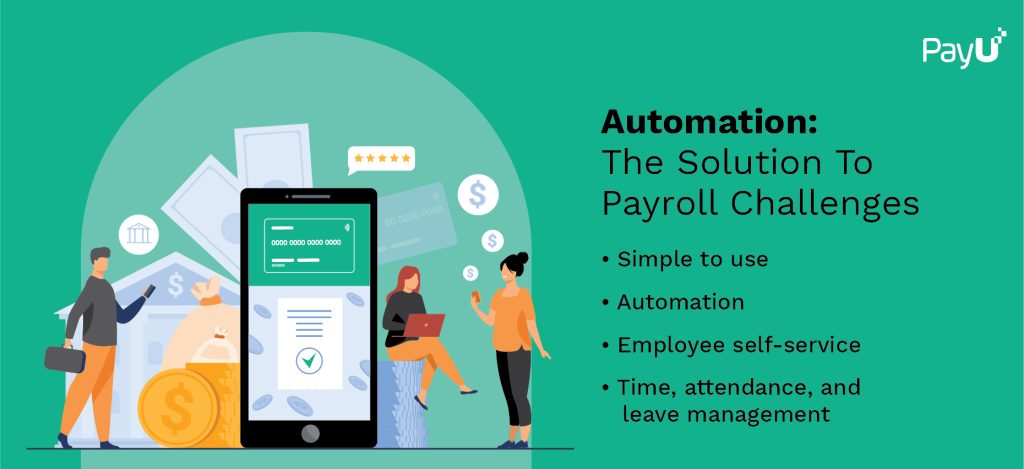 #1 Lower operational costs
Companies don't need to prepurchase server infrastructure or hardware with cloud payroll systems. You also eliminate the need to hire people to manage these systems. It is a disruptive technology, which is why it is affordable for businesses of all sizes. The vendor manages the cloud payroll systems and makes your life stress-free and more manageable.
#2 Faster and more efficient
The previous payroll systems (legacy) cannot stay in the race when the world has changed to a data-driven, fast-paced, and well-connected world. The best legacy system will not be any match for cloud payroll systems as the cloud payroll systems require lesser time and fewer resources to finish the same tasks. You can access employee information and payroll at any time and from anywhere. Your finance or HR team can respond quicker.
#3 Automated compliances
Cloud payroll systems automate PT, ESI, PF, and TDS compliances. They also automate their return filings. Another benefit is it helps in complying with changes on the go. It is a hugely helpful feature as there are frequent changes in taxes and regulatory laws. Cloud payroll systems will automatically incorporate the changes; you don't have to do it manually.
#4 Centralised employee data
Your HR handles a vast volume of employee data such as salary revisions, compensation, investment declarations, onboarding, etc. It can be challenging to manage this information when the records are not centralized accurately. There is one centralized data source when you use cloud payroll systems.
#5 Relief for the HR team
Each month, HR has to collect expense proofs to validate them from the employees. It can take considerable time, and they must answer reimbursement-related questions. It is very time-consuming and requires a lot of back and forth on emails. Cloud payroll systems have self-service employee portals that relieve the pressure on HR. The employees do the proof submission task. Now all HR needs to do is validate it. You can even outsource the validation part to a payroll provider. Your HR can focus on other important stuff such as planning, recruiting, etc.
#6 Automated employee onboarding
Cloud payroll systems allow employee onboarding by letting the hires upload documents such as Aadhar, degrees, bank details, etc. HR needs to automate the checklist and software's necessary processes, and voila!
#7 Comprehensive reports and analytics
A significant difference between legacy and cloud payroll systems is the generation of analytics and management reports. Older (legacy) systems were stuffed with duplicate, irrelevant, and unorganized information, which made it challenging to build and sort any insights. The reports that you received from these systems were not helpful for decision-making.
Cloud payroll systems overcome this challenge and bring insights after collecting the required metrics depending on real-time data. You do not need any separate data warehouse or business intelligence systems.
Conclusion
Cloud payroll systems make life easier for businesses and business owners alike. If you want a more efficient and cost-saving HR solution, you should go for them.