Don't just depend on your salary. Here are 7 Home Business Ideas that you can start today.
Starting a business can be draining. Most entrepreneurs get cold feet at the thought of setting up initial real estate to get the business off the ground. Also, renting real estate, setting up warehousing, or office space can put a massive financial strain on a new business. In contrast, many small businesses or home-based business ideas are easy and quick to start. In addition, starting a business from home can save a lot of time spent in office commute and micromanaging employees.
But there are so many business ideas out there — which one should you consider?
Some business ideas may require an initial investment to get the party started, while some may require just INR 2000. Also, some businesses may need a spare bedroom for creating a dedicated workspace or office — others can be created out of dining tables.
What makes home-based business ideas work? The pros and cons
What are the pros and cons you should consider before pursuing your first home-business idea:
Pros:
A low initial investment can remove the initial resistance involved in starting the business. 
A home-based business is flexible and ensures a work/life balance that is mostly absent in day jobs. 
A home-based business helps you in avoiding hassles involved in the daily commute to work and back. 
Cons:
The business will eventually grow and can't run from the comfort of your bedroom forever.
Human beings are social animals. Work-from-home takes away the joy of meeting people since most of the time is spent alone.
Profit sounds excellent, but every business must comply with statutory regulations, which is the most unloved part of the process.
So, what's the best work-from-home business idea for you? Let's explore the best home-based business ideas you can start today: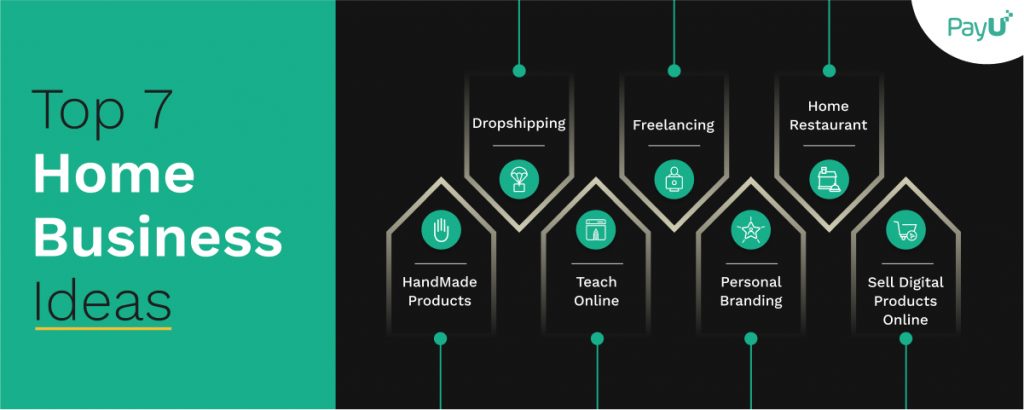 Handmade Products
Can you create something interesting? It can be anything – a painting, poster, portrait, or even wooden crafts. Do you think people would be willing to pay for it? Start right there.
Handmade products can be the best home business ideas for women. Some of the handmade products that have a vast market are:
Candles
Handmade jewelry such as anklets, bracelets, and necklaces.
Face portrait
Customized birthday card
Handmade products are the perfect culmination of passion and business. The best part is knowing the exact cost of producing such products and the margin available on sales. Handmade products can be sold through an established online marketplace or websites with the help of social media ad campaigns.
Dropshipping
Well, this is not some clickbait YouTube video. On the contrary, Dropshipping can be one of the most successful home-based businesses if you want to run an online store without bearing the brunt of managing stocks or dealing with the customer directly.
Dropshipping is a type of e-commerce venture in which sellers accept orders from the customers but don't purchase or store the products they sell. Instead, the sellers partner with dropshipping suppliers who manage the inventory and ship products directly to customers on the seller's behalf. Dropshipping can be one of the most profitable ventures if the products are chosen wisely.
Teach Online
Teaching online can be lucrative, especially now, when most of the courses are being conducted online. Although teaching requires a specific knowledge and skill set, there is a sufficient reward for such attributes.
From academic subjects (like mathematics, science) to businesses (like digital marketing) to music to languages (like Mandarin, Spanish), everything can be taught online with the help of the lens at the top of your laptops or mobile phones.
Based on the experience, a teacher can earn sufficiently well in terms of hours spent compared to a day job.
The gig economy is becoming the need of the hour. People are giving up full-time jobs to startups with gigs, as they are more rewarding than day jobs.
If you're wondering what service you can offer as a freelancer? Well, here are the 20 home-based services opportunities to consider:
Graphic designer
Web designer
Translator
Transcriber
Marketing writer
Resume writer
Photo or video editor
Social media manager
Digital advertising manager
Some of these home business ideas offer more income potential than others. So, do your research and choose the right service-based home business idea for you.
Personal branding – An online audience through content creation
Personal branding is the stepping stone to kick-start your business. For example, Kylie Jenner became the youngest self-made billionaire after launching her beauty products brand, Kylie. Before launching her products, she had a solid online presence, especially on Instagram, which helped develop an online following that she channeled into her beauty brand.
Similarly, if you believe you have specific knowledge around a particular topic or niche and love creating content about it, you could build an online following and monetize your audience. If you prefer this home business idea, the first step is to figure out the type of content you wish to create and a platform to deliver it to the masses, such as
Instagram
Youtube
LinkedIn
Facebook
TikTok
Twitter
Once you have a relatively large following, the monetization process begins. There are three ways to monetize an online following:
Brand sponsorships: Brands will pay you to promote their products, which are also recognized as 'influencer marketing.'
Affiliate marketing: Provide links to a company's products or services and earn a commission every time someone buys that product or service.
Sell products: Just like Kylie Jenner, you can create your own company and sell physical or digital products or services to your audience.
The home restaurant
Have your friends ever told you that you make the best pancakes or pastries, or cookies in the world? Yes? Then, let the world decide.
Starting a home-based bakery or restaurant can be extremely rewarding. The initial target audience can be friends and family, and their reviews can be used to market your product to a larger audience through social media.
A home restaurant can be the best home business idea for women looking out for their first ventures.
Sell Digital Products Online
Digital products allow you to package your knowledge and experience and deliver it to the masses. If you have a strong niche, and you can transform that into a digital product and list that online in a marketplace, then you can make a fortune.
The benefit of selling digital products is replicating and serving multiple customers at no additional cost. You create your product once, and people consume it lifelong, which means it makes money for you even when you are asleep. Some of the digital products are:
Courses
Videos
E-books
Photos
Software
Graphics
Audio (including podcasts)
Conclusion
While deciding which home business idea to pursue, try to capitalize on any skills and experience you have. You should believe people will pay for it and consider following your interests or passions.