A business's launch might be challenging. It can be complicated to come up with a brand name that appeals to your target market, has an interesting past, and is still available as a.com domain. You may have spent hours attempting to come up with a catchy name for your company, only to discover that your top choices are either taken or have a pricey domain name.
Thankfully, you won't have to spend a lot of time coming up with potential business names. If you need assistance coming up with a memorable brand name with a free domain, try using a business name generator.
Learn about ten pretty cool online name generators that you may use as a creative outlet for business branding as well to get name ideas for your company in the paragraphs that follow: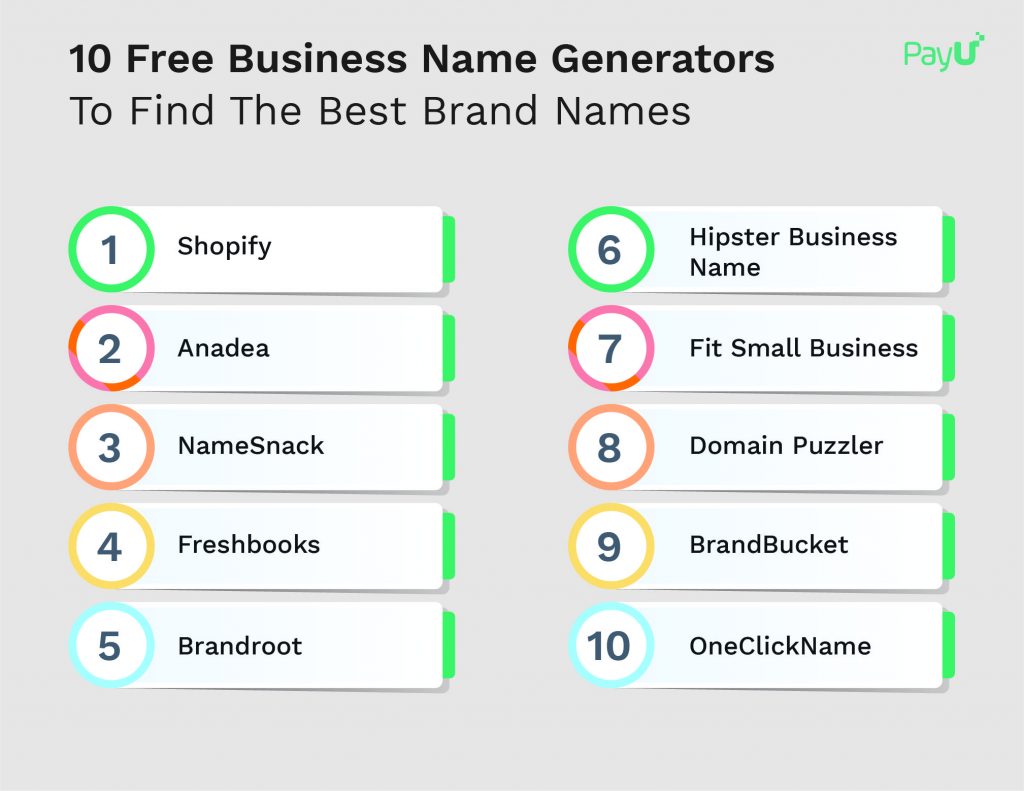 Shopify
The first in this list is Shopify. You can choose from hundreds of distinctive company names using its tool for business naming. Shopify makes it simple for you to create an online presence by only displaying company name suggestions with available domains.
When you choose the ideal name using Shopify's business name generator, you can easily open your first Shopify store and register for a Shopify account. This means that you may use Shopify's robust ecommerce tools to launch your very first online store right away.
Anadea
Finding a business name is made easier with the Anadea business name generator. Simply enter a keyword associated with the main idea of your business and click "Generate names." You'll see a display of many pages' worth of original company names to select from. You can browse the choices, choose the company name you like, and even reserve the.com domain for it. The generator comes equipped with features that enable it to provide company names for which domain registration is possible. When setting up your own business, that's one less concern, that you will have to worry about!
The Anadea brand name generator is free, incredibly user-friendly, and excellent for coming up with tiny business name concepts.
NameSnack
NameSnack is a well-liked and simple-to-use business name generator perfect for finding a unique business name ideas for no cost. It thoroughly researches the market you've chosen using artificial intelligence to assist you find unique names you haven't previously considered.
Entering a term that describes your sector will be the first step, after which you can browse a list of pertinent company names. The generator will also let you know if your desired names are available for the.com domain.
Freshbooks
The company name generator on FreshBooks is moderately interactive. You are asked to choose your industry after choosing "Let's Get Started!" from the following options: information technology, trade and home services, legal services and business consultancy, and creatives and marketing. You can add your keywords after selecting your industry.
You can get more suggestions by clicking "Show me more names" after the tool's initial three suggestions. When you choose a brand name, a new page with a colourful rectangle displaying it will load.
Brandroot
Brandroot is a distinctive company name generator with a registered.com domain name. Each name on the list has been carefully chosen before being offered for sale with a reputable logo and a reasonable price. To locate a brand name for your niche, you can search by keyword or category.
You'll discover that some reputable company names are offered at a premium and that some have more expensive asking prices than others. To prevent seeing business names that are outside your pricing range, you can specify your preferred price point. You get the logo design that goes along with the brand name when you buy it.
Hipster Business Name
This brand name generator, which allows you to click through to view a list of hipster company names, is arguably the most innovative one on the list. You can broaden your brand into various industries because your niche won't be mentioned in the domain.
This brand name generator is the greatest if you're seeking for a distinctive name because some of the brand names on it are witty, entertaining, and catchy. Even a t-shirt sporting the emblem of your company is available.
Fit Small Business
To assist you in selecting the ideal brand name, this company name generator walks you through a series of questions. You'll be questioned about the kind of products you offer, the area you cover, and your last name. You'll be given a list of company names that typically have three or more words in them.
The generator also aids in the domain purchase for the chosen business name. You will be transported to Bluehost's website once you pick a name. This is where you may set up a.com domain for your company. The programme also provides you with a tonne of helpful advice to aid in selecting the kind of name for your company.
Domain Puzzler
There are three ways to make a domain name using Domain Puzzler. The keyword is the exact domain, which is the first method. The second method is more sophisticated and allows you to include additional terms you want to appear in your company name. The tool then magically matches it with common words when you enter the keyword you want.
Even the page rank of well-known websites can be seen with this business name generator. Simply choose the.com box below the options to view only domains with the extension you desire.
BrandBucket
BrandBucket is a suitable brand name generator for you if you're seeking for a distinctive brand name with a logo. The brand names created cost a whopping $1,000, but they are one word, distinctive, and memorable.
You will receive a logo along with the domain name you chose from our website, and you are free to ask for logo changes. This generator was created especially for companies that need a creative brand name that stands out right away, responsive customer service, and attractive design.
OneClickName
Another brand name generator that provides a logo and domain name is OneClickName. Thousands of premium domains are available for purchase with this generator. It is one of the best company names providers. With the help of categories and keywords, each domain is characterised. A cool logo is used to illustrate them as well. If you discover one you adore, expect to pay at least a few hundred dollars.
When you enter a keyword or niche, the tool will present you with appropriate brand names. When you locate the one you like, you may find out more about it, including the sentiments behind it, the kinds of businesses it would be ideal for, its structure, and other information.
Conclusion
The online name generators on this list will assist you in coming up with a name you adore, regardless of whether you're searching for an exact match domain or a unique and creative brand name that expresses the spirit of your brand. The way you portray your brand, interact with your clients, and differentiate yourself from the competition will ultimately determine how people view you. Work on building a brand that you can be proud to call your own, one that is driven by a name that captures your identity and core values.