The top payment gateway in India, PayU, supports more than 5,00,000 enterprises. PayU is the chosen payments partner for approximately 60% of e-commerce merchants in India, comprising all of the major e-commerce companies and the majority of airline companies, and it services more than 5,00,000+ merchants with over 100+ payment options.
With the highest industry payment success rate and a wide range of payment choices, PayU provides your customers with a delightful payment experience. In addition, the PayU dashboard offers you the greatest user interface.
With a wide range of tools including analytics and real-time statistics, PayU Dashboard enables you to learn important things about the functioning of your company. To learn more about the features of the PayU dashboard, read this article.
Overview of the PayU dashboard for a payment gateway
Businesses can configure, run, and administer their payment gateway account on the PayU dashboard, along with the other products from its payment suite. A summary of recent payments, settlements, and refunds is provided. In this essay, we'll talk specifically about a payment gateway's dashboard. Let's get going!
Using your PayU dashboard login, you can access the dashboard. Your company summary and quick links to all the features, including the payment link, payment gateway, payout installation, and details, are displayed on the main page.
Your PayU dashboard's left sidebar contains four key header links for convenient access. These are: 'Collect Payments', 'Track', 'Send Payments' and 'Analytics'.
Let us see the functionality of each parameter that PayU offers: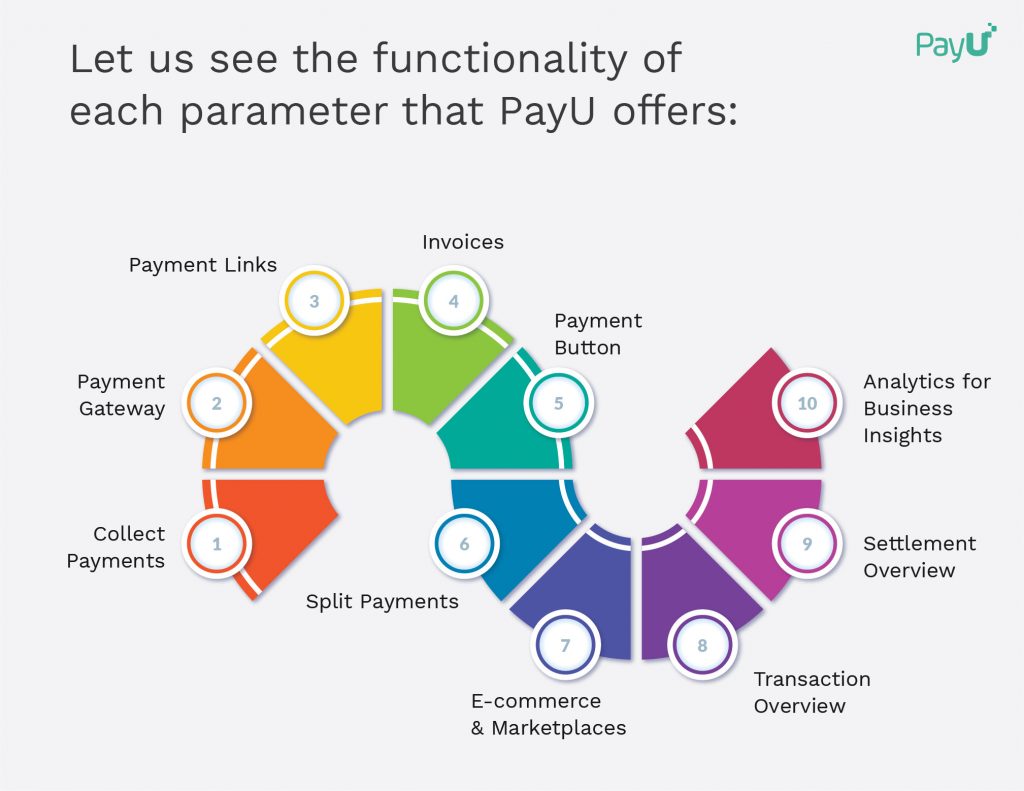 Customers are a company's most precious resource. By providing a simple payment process and the highest payment success rate, you can give your consumers a good experience.
The "Payment Gateway" page enables you to add payment options to your company's website or mobile application and turn browsers into grateful paying clients. Here, you can use Java, PHP, Python, etc. to incorporate payments into your app or website. The tab also provides you with the technical information required to activate the functionality.
Utilize the PayU SDK to integrate with mobile apps and add payment support to your iOS or Android app. Connect to the best and most widely used e-commerce sites and shopping carts. The integration procedure just needs to be done once and is simple. With its user-friendly, fully responsive and top-notch security protocols, the business can relax knowing that it will comply with current data security standards. Any urgent assistance needs will be immediately resolved thanks to the round-the-clock help.
Through this feature on the PayU merchant dashboard, you may generate and distribute payment links. Credit/debit cards, wallets, net banking, UPI, and other online payment options are all available to your clients. Popular apps like Facebook, SMS, WhatsApp, email, and other chat programmes make it simple to share payment links.
You may develop straightforward and expert invoices for your clients so they can complete the sale and make rapid online payments. It is not necessary to utilise a different application just for billing. The channel that is most convenient for your customer might be used to share these invoices. By include precise and succinct billing information, you can create customised invoices. For a completely tax-compliant operation, an automated GST computation is already built in.
From the PayU dashboard menu option, you may design the payment buttons using this tab and alter their size, colour, and type. With just one line of code copied on your website, you can immediately launch your products and provide payment alternatives thanks to the procedure' simplicity. To install the PayU payment buttons, just adhere to these easy steps:
Select the 'New Payment' button.
On the following page, add the button's text name, such as "Pay," "Card," etc.
Enter the Item name.
Enter the amount for the item.
• Choose the size and colour of the button from the menu as well as their size.
You can add the client information needed at checkout, such as name, address, and contacts, under the "Custom Details" area. Additional fields can be added here. Before the installation is complete, you can examine the buttons.
This area allows you to securely split incoming funds to several accounts and handle vendor payments using simple-to-integrate APIs.
E-commerce & Marketplaces
This tab enables you to distribute single payments among numerous sellers in accordance with the payment terms if you operate a marketplace that connects buyers and sellers on your platform.
Online Service Aggregators
The operation of an online aggregator requires a straightforward way to control money flows to the relevant service provider. This page makes it simple to handle payment routing.
You may control the entire payment process by monitoring the payment dates, specifics, etc. if you run a platform for service providers such as plumbers, taxi drivers, and others.
You may send payouts and direct transfers of money to your partners, vendors, and workers via the PayU dashboard's "Send Payments" option. Instant payments can be made to your bank account, phone, or email. You may easily transfer your employees' salary in bulk each month with a simple file upload using the PayU dashboard.
Your consumers can receive direct, quick refunds into their bank accounts or credit cards. All vendor payments can be handled in bulk.
Domestic Money Transfer (DMT)
In accordance with DMT rules, you can rapidly transfer funds to any bank account using DMT. You can also manage DMT commissions, claim 100% GST, and also claim GST Settlements.
Follow these easy steps to start DMT transfers:
Deposit funds into your DMT account.
Add Sender and Beneficiary Details through API
Get Commission as well as GST Settlement
Easily Track Your Transactions
You may monitor crucial company data like transactions and settlements in the "Track" section.
This tab provides you with a summary of all transactions made during a time frame.
You can monitor the total number of transactions for your company's income, refunds, and payment success rate.
The transactions are listed by date and include the transaction ID, the source, and the contacts for the customers.
To keep track of certain transactions, you can add filters. You can more conveniently keep track of all of your transactions from one page with this tabular view.
You can view the daily record of resolved transactions in this part as a consolidated figure and a list of settled transaction details that have been filtered by date, UTR number, sales amount, etc.
The TDR Report for the current or previous months is available for download.
You can view information about any pending chargeback requests under the "chargeback" page.
Analytics for Business Insights
You may see a single-window overview of all of your business transactions, refunds, settlements, and reimbursements on the analytics page. With straightforward, simple to filter analytics, you can keep a close eye on your business every day.
These reports will retrieve your transactional data, including payment, customer information, and status.
These reports will list settlements that have been started, paused, and processed along with information on service charges.
These reports will provide information on initiated refunds and their progression through the cycle.
These are monthly service charges and tax invoices from PayU.
You can view payout information including the amount distributed, the beneficiary, as well as the status in these reports.
You can view transactional information in these reports, such as the total amount collected and the current state of your payment buttons.
By selecting the "Generate Report" tab, you may generate and download a report for each metric.
You can choose the fields, filters, and needed data ranges for reports. The reports are offered in XLS and CSV file formats.
Conclusion
You can compile, customise, monitor, and track all of your customers' payments from a single window using the PayU dashboard. Make the PayU payment dashboard your business assistant to aid you in making prompt decisions based on data and statistics that are accessible with a single click.