Female entrepreneurs in India are challenging the stereotypes and changing the business dynamics. They are inspiring Indians and setting a precedent for more women to follow their path. Women have been slowly and steadily moving up the business ladder, with a significant chunk of new-age Indian businesses either run or held by them. According to a report by Forbes India, more than 20% of the MSMEs are owned by women entrepreneurs in India. And this number is rising by the day, with nearly 50% of India's start-ups empowered by women in one way or another.
Let us walk you through some successful female entrepreneurs' profiles who are making India proud globally. Every single female entrepreneur in India is part of the wave of entrepreneurship spearheaded by women. We're highlighting six of them who've made it to the list of successful women entrepreneurs in India: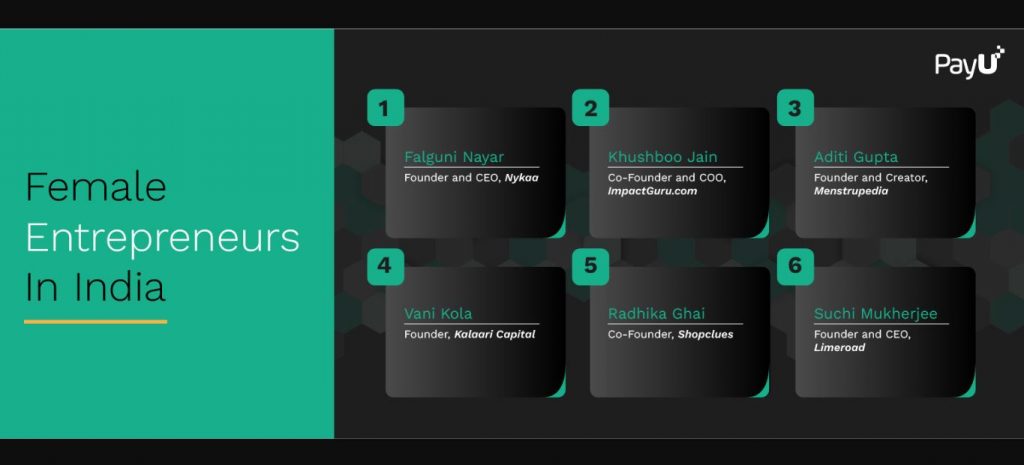 Falguni Nayar—Founder & CEO of Nykaa
After a strong career path of more than two decades, Falguni Nayar began her second inning with her business idea in 2012. Nykaa, an e-Commerce platform selling women's beauty products, is the brainchild of the 49-years-old Ms Nayar. Over the years, Nykaa has built a successful business run mainly by women. It recently went public, with its IPO being oversubscribed nearly 82.5 times. This expanded Nyka's market capitalisation to Rs.1.05 lakh crore.
Nykaa has a presence in more than 38 cities, with 80 plus stores. The company hosts over 2,000 brands, including a well-established lineup of in-house brands. If you have doubts about Nykaa's popularity and reach, then just know that global star Priyanka Chopra Jonas' skincare range, Anomaly, which was originally launched in the US, will launch in India exclusively via Nykaa.
Khushboo Jain—Co-Founder and COO, ImpactGuru.com
Khushboo Jain co-founded impactguru.com with the mission to help India's crowdfunding startup scenario. According to the company's "About Us" statement, the company was launched "to offer a more compassionate solution to those fighting critical illnesses and to empower individuals and communities to help those in need."
Jain is also the COO of the company and leads the marketing, communication, and design teams. An MBA in marketing from the Welingkar Institute of Management Development & Research, Khushboo has also studied fashion marketing at the London College of Fashion. She was featured in the Fortune 40 under 40 lists in India and was amongst the top 15 winning women entrepreneurs at the 2019 Women Transforming India Awards by NITI Aayog and the United Nations.
Aditi Gupta—Founder and Creator, Menstrupedia
Aditi Gupta started Menstrupedia to educate young Indian girls about the menstrual cycle and hygiene. In India, topics like personal hygiene and menstruation are chronically taboo, leading to a lack of awareness and unhealthy consequences for millions of girls. She also wanted to break the taboo around the words "period" and "women." Every day in India, more than 120 young girls face shame for talking about their periods or the reactions of people around them. This prompted Gupta to take up the idea of a comic book guide – Menstrupedia – to discuss issues related to periods and sanitation.
The comic book guide adapts real-life experiences into fun-to-read comics that are educational content on periods and related issues for girls aged 9 years and above. The comic book has won many awards and grants and has collaborated with Whisper India, a company that makes sanitary pads for women. Aditi has been featured in Forbes' 30 under 30 lists as one of the successful entrepreneurs in India.
Vani Kola—Founder, Kalaari Capital
She had a well-claimed entrepreneurial career spanning over two decades in Silicon Valley, where she founded two companies—Rightwork and Certus software. Vani Kola then set her feet back in India in 2006 and teamed up with her fellow Silicon Valley entrepreneur, Vinod, to launch Indo-US Venture Partners (IUVP) in partnership with New Enterprise Associates (NEA).
In 2011, she decided to go solo and rebranded the company as Kalaari Capital. Today, Kalaari Capital has over 200 assets, including some of India's biggest, brightest, and most successful startups in tech, consumer, climate tech, and enterprise. Kalari Capital has so far raised a total of USD 740 million, funding 110+ startups. No wonder Kola is known as the "Mother of Venture Capitalism in India."
Radhika Ghai—Co-Founder of Shopclues
After her MBA in the US, Radhika Ghai (2012) aimed to explore the eCommerce ecosystem in India. She launched Shopclues along with her husband – Sanjay Sethi – which competed against the likes of Amazon, Flipkart, and Snapdeal. Shoplclues soon became the preferred online platform for merchants and buyers, with a valuation of USD 1.1 billion within five years. The company was acquired by a Singapore-based eCommerce platform called Qoo10 in 2019. Today, Radhika is the Founder and CEO of KindLife, a beauty and wellness platform hosting more than 150 brands across beauty, nutrition, and home care.
Suchi Mukherjee—Founder and CEO of Limeroad
Suchi Mukherjee returned to India in 2011 from London to make her entrepreneurial dream a reality. She holds a Master's Degree in Finance from the London School of Economics and is the only Indian to have received the Cambridge Commonwealth Trust Scholarship for studying Economics at Cambridge University in 1994. She has worked with brands such as Virgin Media (Director for Change and Business Development as well as Consumer Division Management Team), eBay, and Skype (Director and Member of Executive Management Team).
In 2012, she was all set to explore her path to a social fashion retail platform with the launch of Limeroad after she acquired an initial capital of USD 5 million. The company was set up along with her partners, including Prashant Malik and Ankush Mehra. Today, Limeroad is valued at USD 51.9 million and has a strong women's community of 5000 plus, who create their own mix-and-match designs based on the products available in the catalogue.
These are some of the women entrepreneurs who are revolutionising the business scenario in India. There are many more on the list of successful female entrepreneurs in India. And many more will soon be among the top entrepreneurs in India.
FAQs
What is entrepreneurship?
Entrepreneurship is the ability to set up or run a business, with risks and hope to go hand-in-hand.
What is the valuation of a company?
The valuation of a company is the process of defining the current economic value of a company or asset.
How to start a business?
To start a business, you must prepare a business plan, incorporate a company with all necessary legal obligations, and develop a brand identity for your products and services.
What are the benefits women entrepreneurs get in India?
Women entrepreneurs get loans and tax benefits in India. The government runs various loan schemes to boost women entrepreneurs, such as Mudra Loan, Annapurna Scheme, Stree Shakti Yojana, and Dena Shakti Scheme, to encourage more women into the entrepreneurial journey.