Present-day startups are the conglomerates of the future. However, to be successful, startups must ensure that they provide a seamless customer experience, be it service, customer support or payment. Digital India shift has made everything online. It has revolutionised the payment industry and is a boon for India's ambition of a cashless economy. However, when it comes to business, the payment method for startups will determine their customer's payment and checkout experience to a great extent. Therefore, choosing the right payment gateway for your startup is essential. But how can you do so? Let's find out!
Choosing the Right Payment Gateway for Startups
Choosing the correct payment method for startups isn't a difficult task. However, it is vital to establish an online payment system using payment gateways. Payment gateways provide multiple online payment options to customers, thus making it convenient for them to pay and checkout. You just need to list down your requirements and features that you want in your payment gateway and search for the one that fulfils your needs. Here's a quick list of an ideal payment gateway:
Low Merchant Discount Rate: Also known as MDR, the merchant discount rate online payments. It varies amongst different payment gateways. However, it's evident that the lower the MDR, the higher the savings for your startup.
High Success Rates: Unsuccessful payment errors create a frustrating checkout experience if held repeatedly. Therefore, you shall select a payment gateway that provides the best transaction success rate to ensure a seamless payment experience for your customers.
Multiple Payment Modes :Not all your customers need to pay through UPI. Some can pay through NEFT, while others may use RTGS, IMPS, UPI, mobile banking etc. Therefore, your payment gateway must support all the payment methods. Further, whatever application the customer supports for the payment, your payment gateway should support the same.
Quick Integration: An ideal payment gateway quickly integrates with your payment systems, and you get swiftly onboarded. The faster it gets operational, the better it is for your startups.
Quick Settlements: The payment settlement is the time required for your accepted payments to reach your bank account. The amount must be credited to your bank account at the earliest, whether you run an eCommerce store or a brick-and-mortar establishment. The faster you receive the payments, the better your working capital cycle operates, as you can use the funds for operations and fees to your vendors per the payment terms.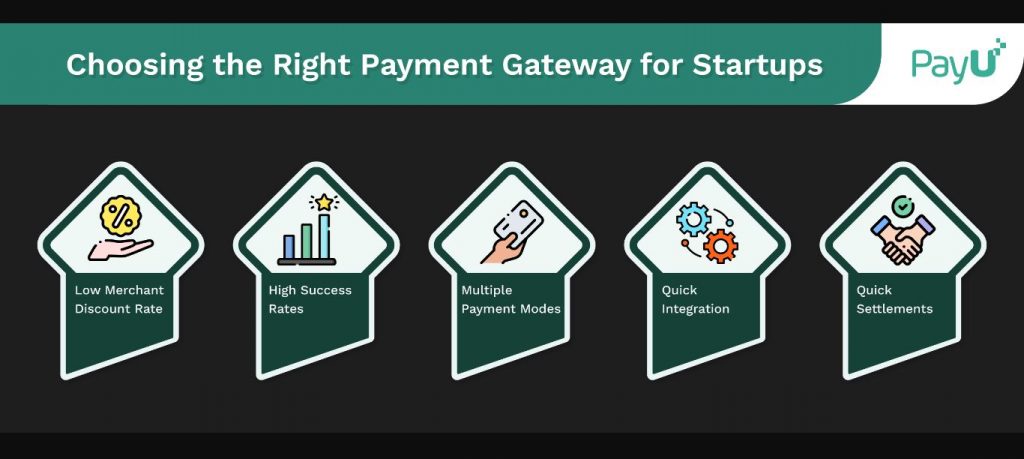 In a Nutshell
For any business, customer experience is paramount for the organisation's growth, especially for startups. As a founder, you must keep the above points in mind while selecting the payment gateway for your business. Ultimately, you need to provide the best online payment methods to stand out from your competitors, especially for B2C companies.
PayU enables 100% online onboarding for businesses with easy integration through APIs and SDKs. Customers can pay through any medium, as PayU supports 150+ payment options. Features like recurring payments, instant refunds and simple and transparent pricing make it a preferred choice among businesses, especially startups. Even international payments are no longer a hurdle as PayU accepts payments in international currencies.
FAQs
Are payment gateways available in vernacular or multi-lingual languages?
Yes. To cater to the needs of tier-2 and tier-3 cities, payment gateways like PayU also support vernacular and multi-lingual checkout experiences with Checkout for Bharat.
What are the different integration options provided by payment gateways?
Following are the integrations that you will find in a payment gateway:
APIs: This integration is suitable for desktops and websites.
SDKs: This integration is suitable for mobile applications
Plugins: This integration is suitable for selling through third-party platforms and e-commerce stores like Shopify, BigCommerce etc.
How are the support services of PayU?
PayU provides 24*7 support services. You can connect with PayU representatives round the clock to ensure business sustainability.