We are sure you may have tried various ways to maintain cash flow in your business. Read on to know what makes PayU's Priority Settlement a perfect choice for improving short-term cash flow!
What is Priority Settlements?
As the payment settlement process is time taking, we built a product that eases the problem of cash crunch in your business. PayU Priority Settlements enable you to get your online customer payments any time of the day in just 15 minutes. It works 24×7, supports all payment modes, and enables you to choose your settlement cycle.
Features of Priority Settlements
With Priority settlements, you get:
Round-the-Clock Settlements
Get round-the-clock payment settlement as it works 24 hours a day*, on weekends and on bank holidays
*All your settlements between 01:00 AM – 09:30 PM will be processed on the same day. Settlements between 09:30 PM – 01:00 AM will be processed in the next available batch.
Flexible Payment Settlement Cycles
Change your settlement cycle from T+15 minutes to T+1 day, as and when needed. Maintain cash flow in your business when required.
On-Demand Transfers
Transfer the preferred amount instantly when required to use it for your business operations. Get money on demand without worrying about payables & receivables.
Easy to Use
Activate priority settlements with a single click from your PayU dashboard. Ease the process of maintaining cash flow for your business.
Complete Clarity
View all your settlement charges on your PayU dashboard. Get complete clarity on all your receivables & payables right on your dashboard.
No Limits
Get settlements unlimited times in a day. Manage the financial needs of your business on the go without worrying about the cash flow crunch.
Benefits of Using Priority Settlements
Priority settlements by PayU enable:
Timely Payments
Make all the payments to your partners, vendors, and agents on time without giving second thoughts about your cash flow.
Consistent Cash Flow
Meet all your working capital expenses hassle-free without worrying about getting all your receivables on time.
Instant Refunds
Refund money instantly to your customers during large-scale cancellations easily and keep your customers happy.
How to Activate Priority Settlements for Your Business?
Here's how you can activate priority settlements for your business:
Step 1: Open your PayU Dashboard and click on "Activate Now".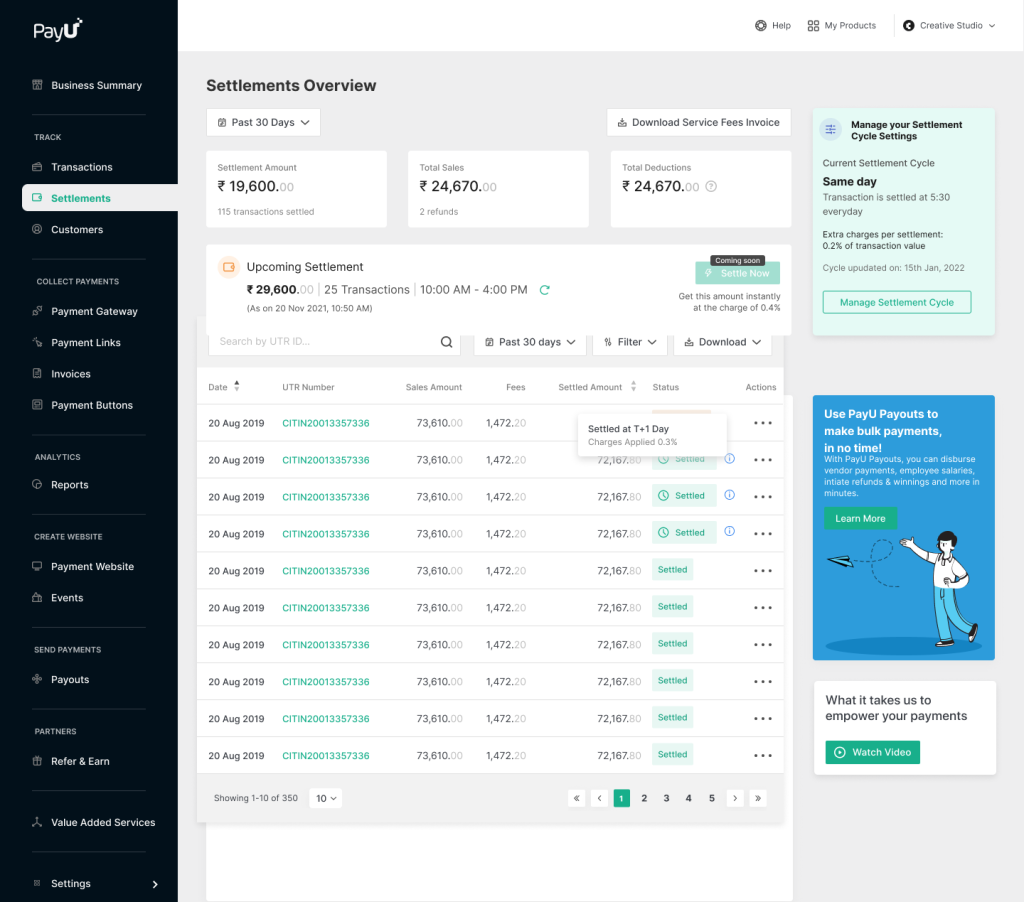 Step 2: Choose your settlement cycle.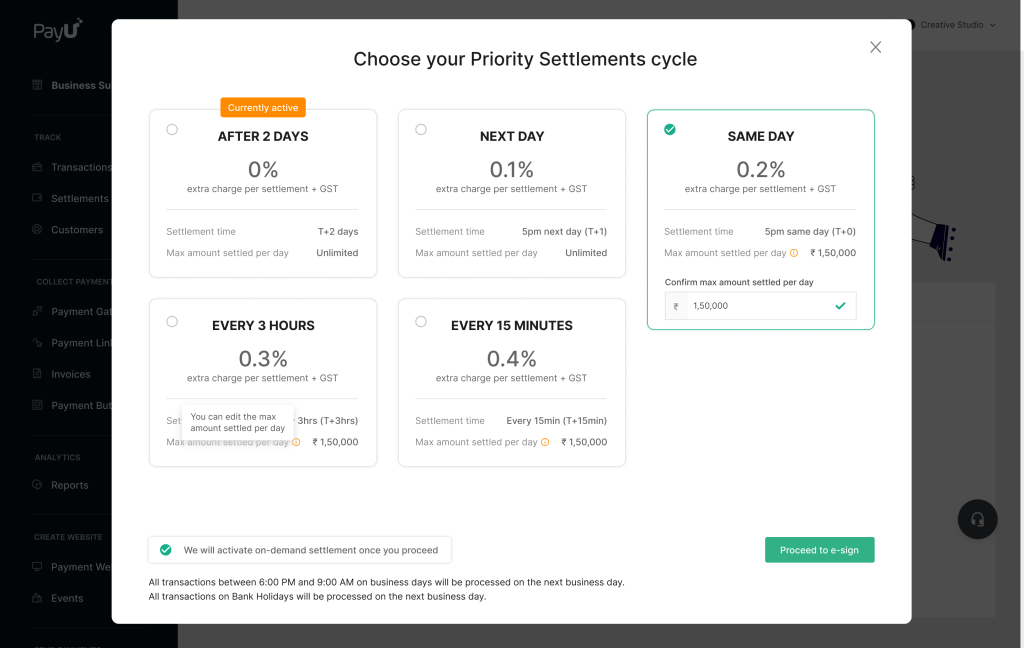 Step 3: Once activated, you can see settled transactions on Priority settlements and filter as per your need. Click on any transaction to view the break-up of charges.