As you know, we are always trying to roll out new features and product updates to make business easy for you.

Now, we have created PayU Assist– a help center where you can "chat with PayU Buddy" and find answers to all your queries. It is an interactive yet simple place where you can find answers, raise tickets for queries and also track them.
This is how our new PayU Assist Page looks like: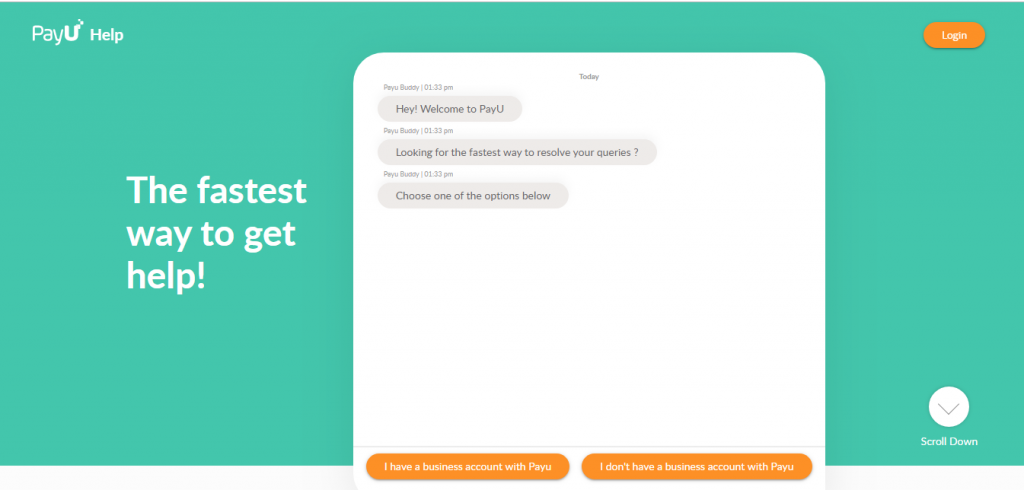 To access PayU Assist, follow these simple steps:
Go to help.payu.in
Log in with your account for personalized answers or click on "I don't have a business account on PayU" for general queries.
Don't find satisfying answers, "Raise a ticket"
See how it works!
Once you reach the new PayU Assist page, you will have to select if you have a business account with PayU or not. This we ask you so that we are able to process your grievance faster and provide you with a suitable solution.

Let's say that you click on "I don't have a business account with PayU". You will see a chat message appearing on the same window from "PayU Buddy" asking you to choose from options of queries that you might have: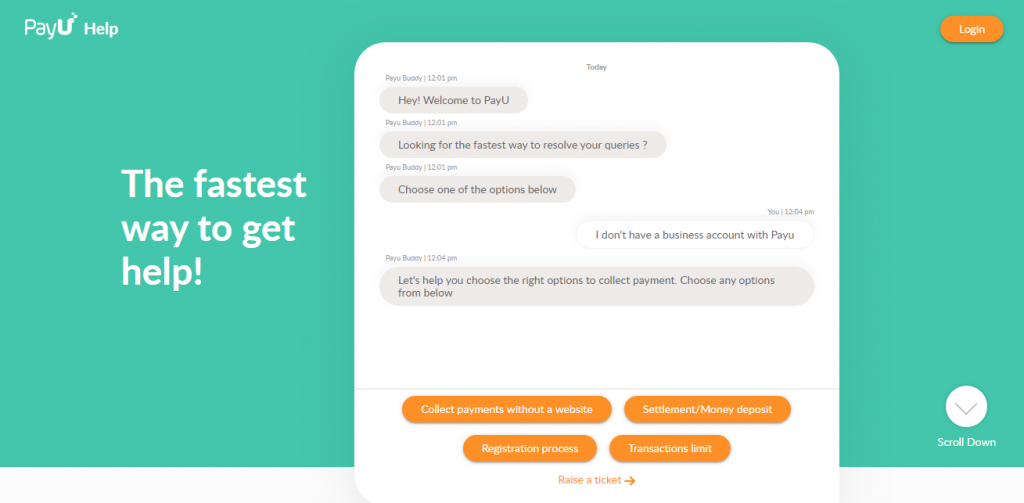 If you choose any one of the queries listed by us, you will see PayU Buddy providing you with a step by step solution for the same. Also, it will ask you, "Did we resolve your issue?"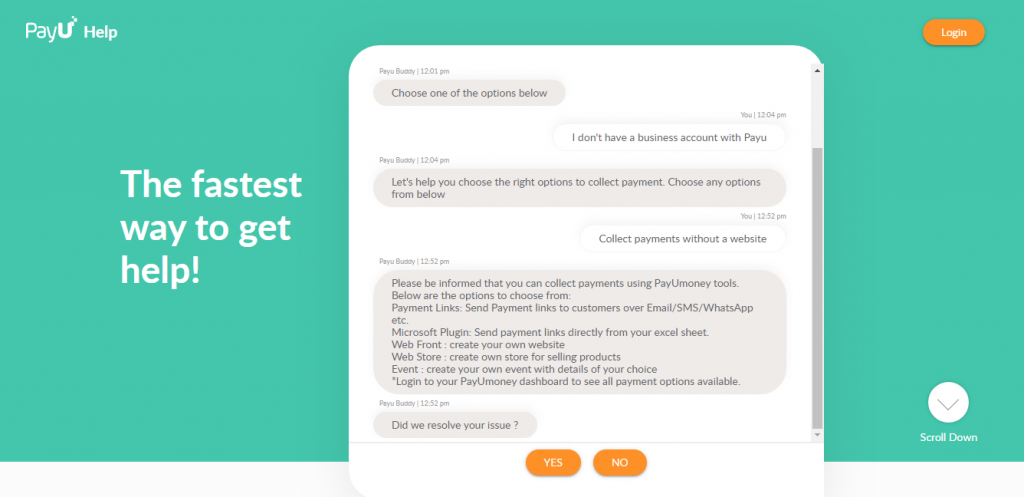 Click "Yes" if your issue has been resolved. On clicking "No", you will find the PayU Buddy asking you to "Raise a ticket" or going for a solution to a new query.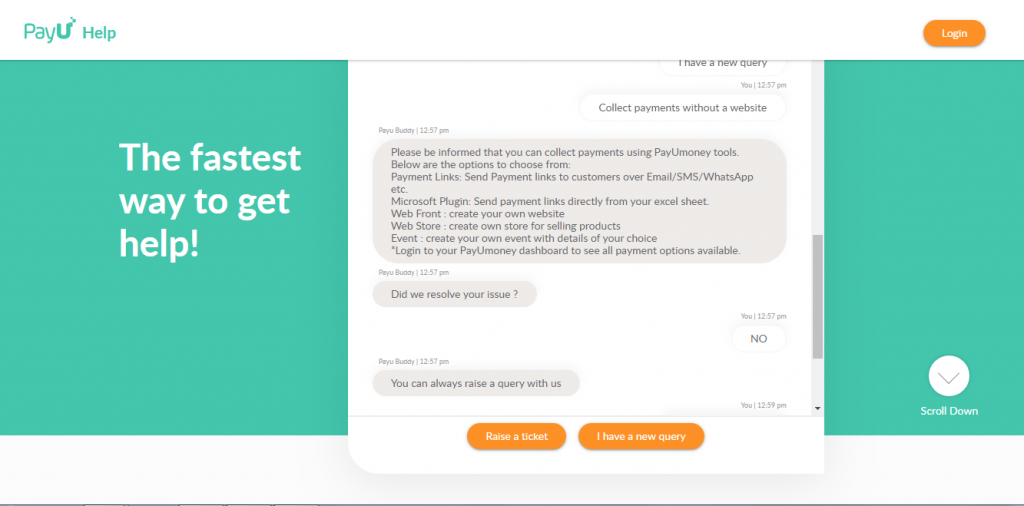 Raise a Ticket
Once you click on "Raise a Ticket", a new window will pop up on your screen asking you to fill in more details about your query.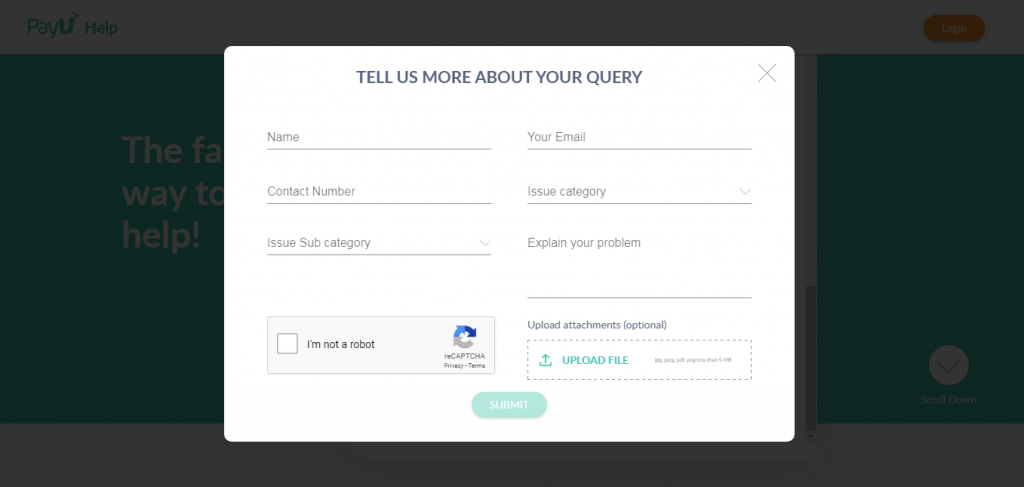 You have to fill relevant details such as your name, email ID and contact number. Select the category of your issue. You must select the most accurate one. After doing so, you must select your "issue sub category" as well.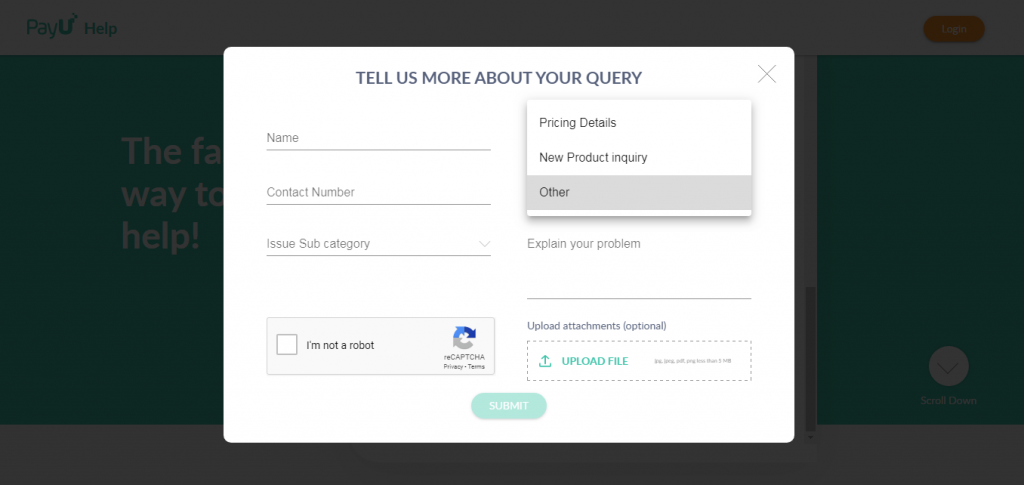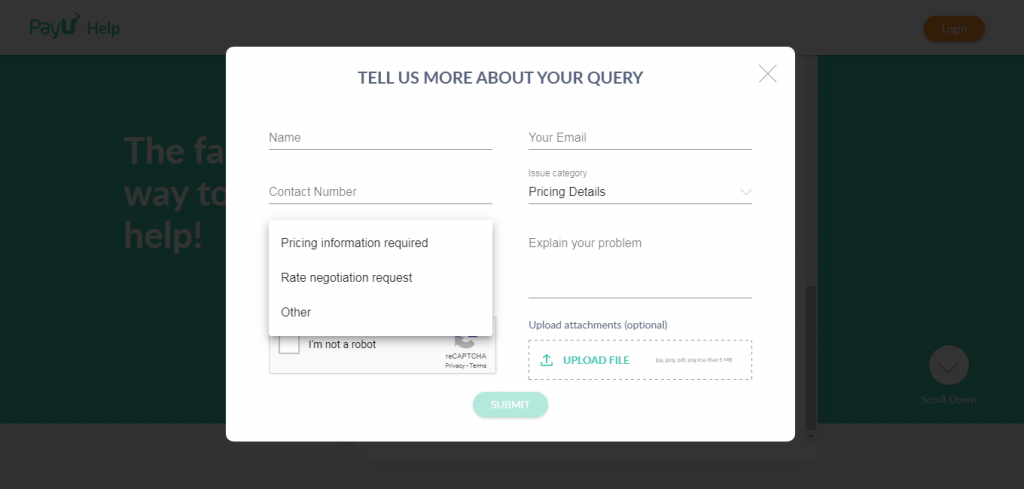 Explain you problem in the window. You can also attach relevant documents or screenshots of the issue that you are facing. Just click on "UPLOAD FILE" and attach documents/excels explaining your issue here. This will help us understand your problem better.
Click on the recaptcha and then "Submit".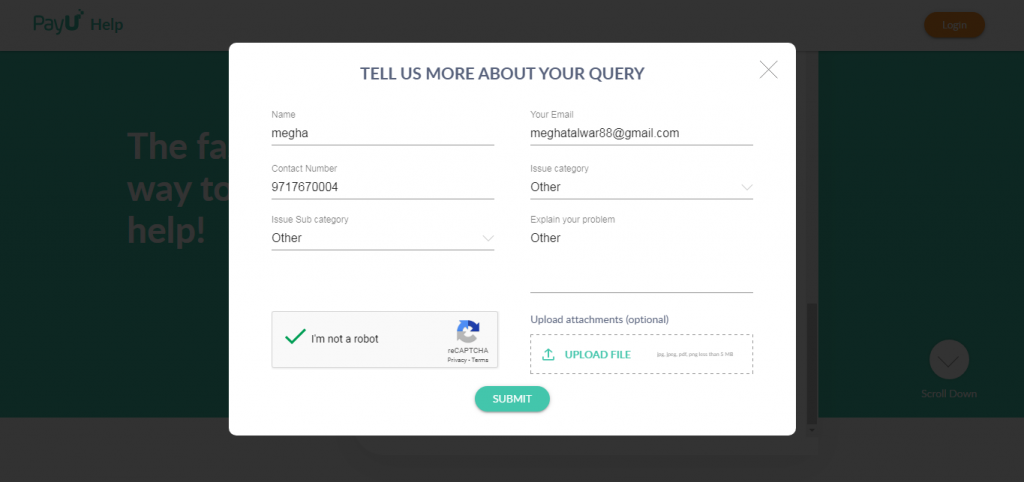 After you submit your query, you will receive a message on your chat window with your Ticket ID.

What next? Track Your Query.
You can track the status of your query by clicking on the link in the chat window or by clicking on the link sent to you by SMS or email.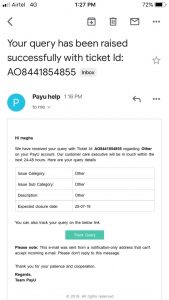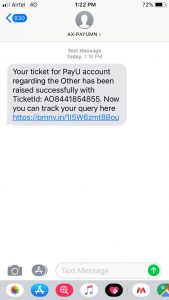 After you click on your "track query" link, you will land on a page like this: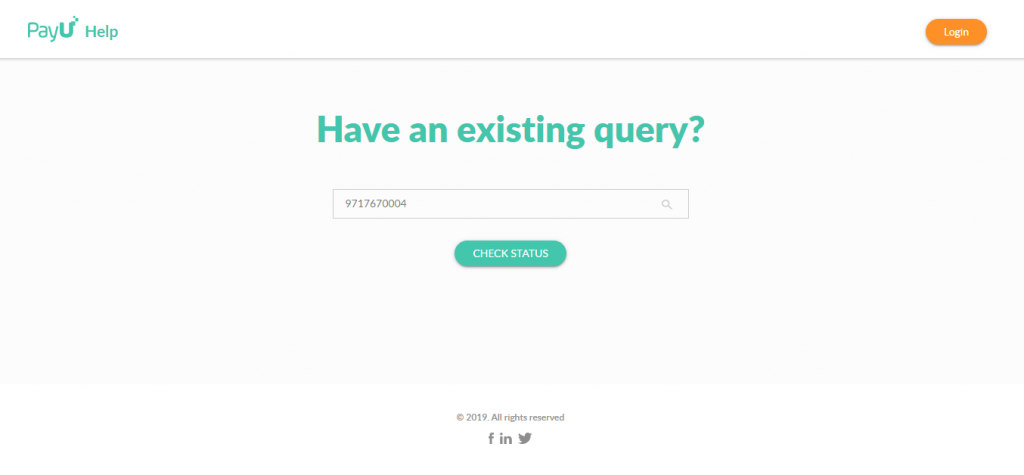 Enter your contact number and click on "Check Status". You will be asked to enter an OTP, sent on your mobile number for security reasons. Enter the OTP and click on "Verify".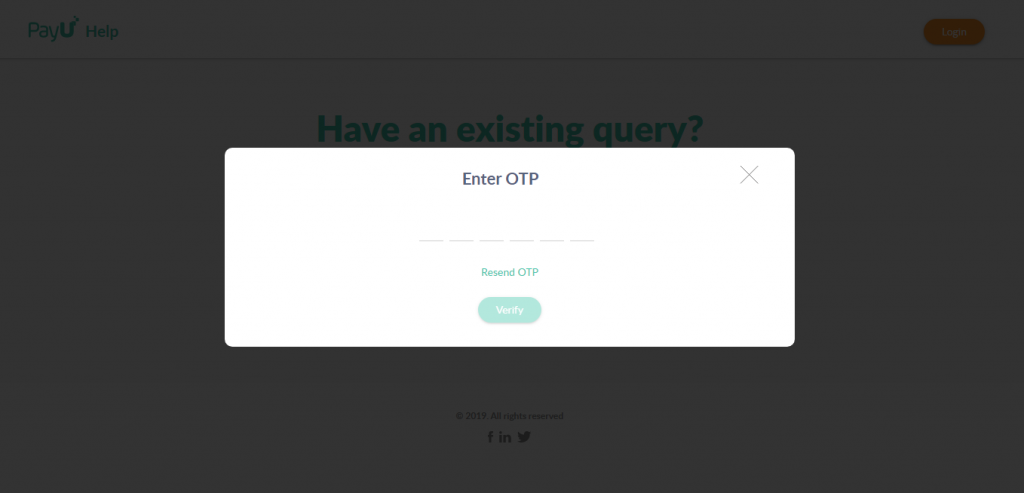 Next, you will land on to a page like this: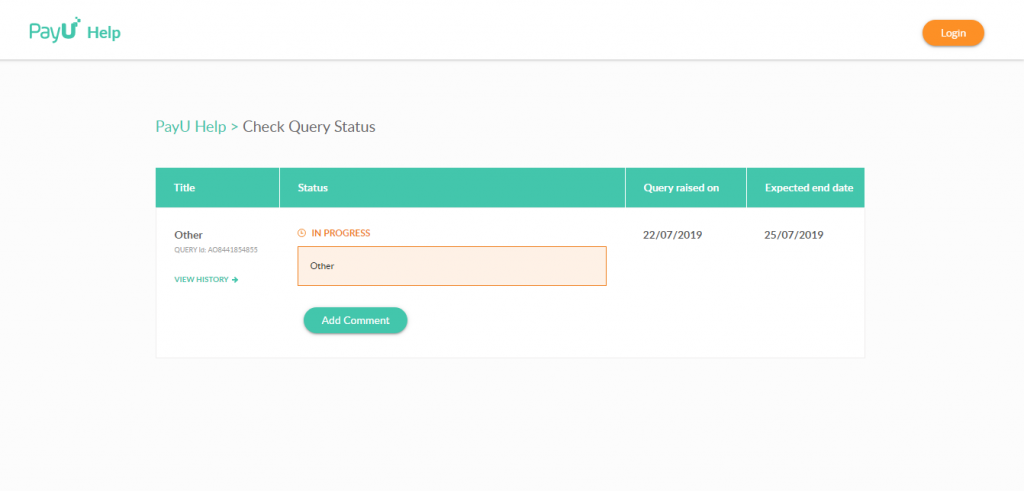 On this page, you can check the date on which the query was raised and also the expected resolution date.
Note: The expected resolution date will be 3 working days.
You can view the status of all your old and new tickets by clicking on "View History". This will help you track the status of all your opened and closed tickets as well as know that we are working on it.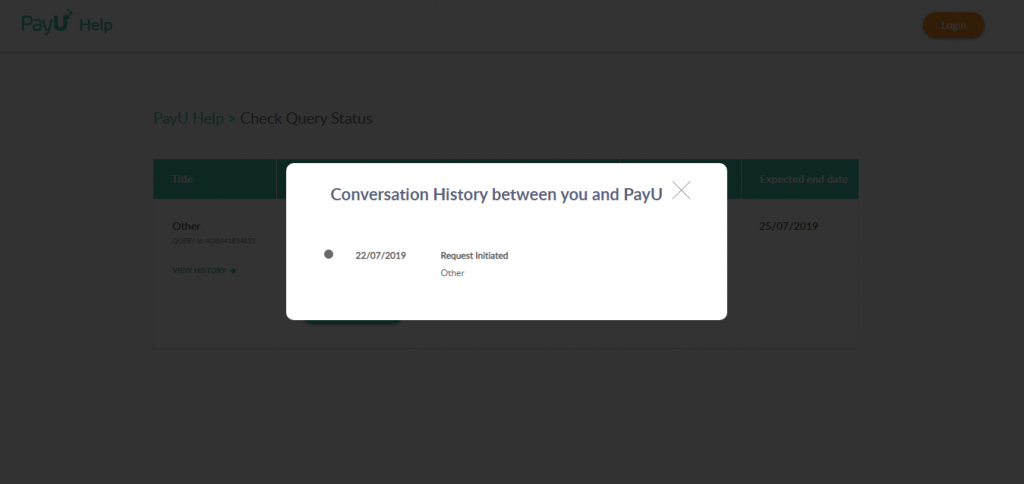 You can also add further information about your query or upload files by clicking on "Add Comment".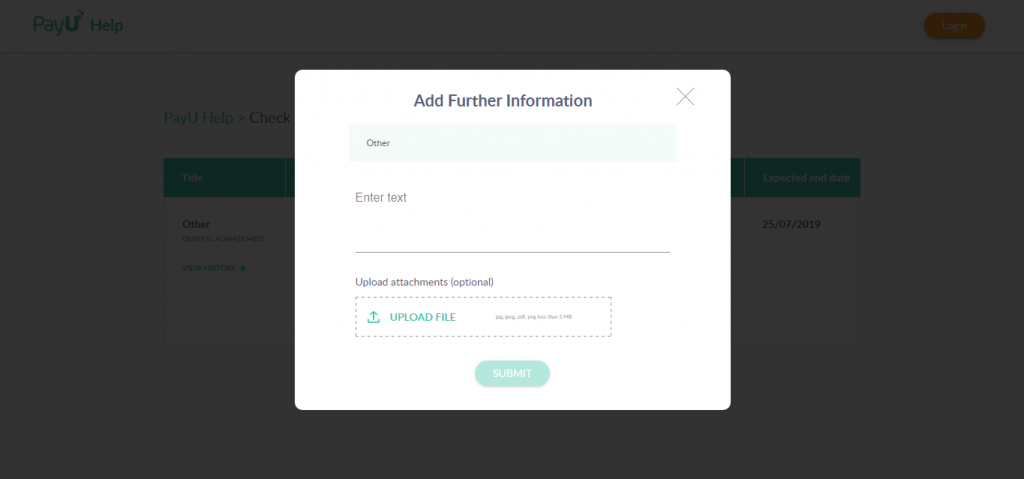 In cases, when you have a business account with PayU just click on "I have a business account with PayU". And click on "Login" to get instant answers to your most important questions.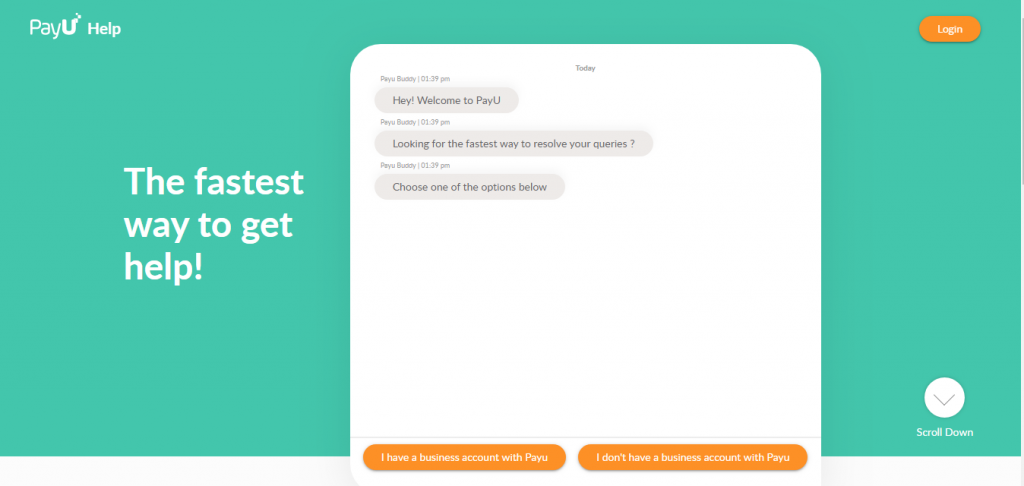 After you do so, you will see a list of suggested issues that we feel you might be facing. Click on one of the issues for instant answers from PayU Buddy or you can just go ahead and "Raise a Ticket". The entire process will be the same as mentioned above.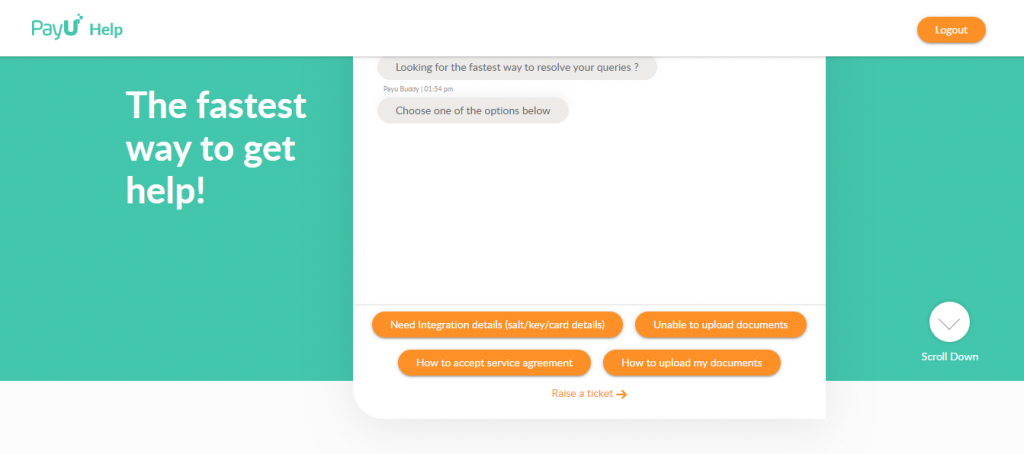 After your query has been resolved, you will get a notification from PayU to provide feedback on the same. Make sure, it's honest!
One Year after PayU Assist Launch: PayU Witnesses 70% Reduction in Merchant Queries
We are proud to share that PayU has achieved a remarkable 70% reduction in weekly merchant queries and a 95% reduction in retail buyer queries, since PayU Assist's launch last year. Read the entire story here.
See what our customers have to say!
The PayU Assist bot is available 24*7, which is good for a round-the-clock business. It's very convenient as my staff can solve problems on their own, without needing too much help from seniors. Time spent on query resolution has really come down. We don't face too many issues with PayU gateway, but most of the problems we face are solved quickly and effectively by the Assist App, said Ankur Sharma, Business Head, Feepal. Feepal provides online fee payment solution to educational institutes.
Conclusion
We will continue to think of more ideas and plans in order to cater to the evolving online payment needs. We understood the need of having one communication platform to resolve all your queries and therefore created "PayU Assist" for all of you. We hope this new feature will help both, us and you! For more details,