Social Media is a seller's paradise. Start selling in minutes!
Sign Up Now
Sales process is about knowing your prospects and creating relationships. And it turns out that social media can help you achieve it quickly.
Buying process has moved from the desire to personalized experience which customers have created for themselves. In short, intent and discovery are knitted closely together. The challenge is to be present for and around your customers.
Sellers now realize they can engage their customers directly and more personally on social media and WhatsApp. Here are four reasons for small enterprises looking to integrate social media into their selling process: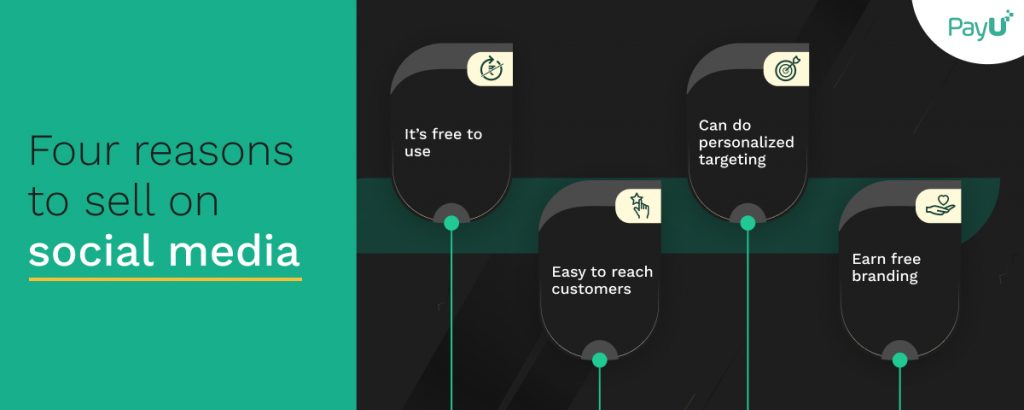 Social media is free: All the major social media channels with the widest user base (Facebook, Instagram & Twitter) are free to use. You can avail the best of services and feature benefits, all for free. Creating an account on all these channels takes no longer than 5 minutes!
Your customers are present here: Be it any age group, ethnicity and demographic, there is one underlying fact: social media is for all. People from different fields, backgrounds, and professions have access to all the major social media channels. Hence, it is easier to reach out to your target audience. Target specific ads on Facebook make this, even more, easier and more optimized!
Most personalized touchpoint of users: Since social media is open and free, it is one of the best channels to have direct contact with your customer and get an audience. You can host multiple contests or roll out some engagement-driven activity. User-generated content is highly engaging. Keep experimenting and see what works the best for your brand.
You get free branding: As mentioned in the first point, social media in most instances is free. You get umpteen number of benefits for your brand- all for free. If strategized properly and thought through, social media can do miracles to your brand.
Want to know more about social media and the updated trends? or want the bets marketing hacks and tips? read about the top social media marketing tips for your business now.
With all your marketing and sales activity in place, it is a good idea to have a one in all payment service provider. Sign up on PayU- India's leading payment gateway and grow your business effortlessly!