With digital payments in India gaining much-needed traction, it is safe to say that the country is at the forefront of the fintech revolution globally. The traditional financial ecosystem focused on catering to the HNIs and UHNIs. But easy access to the internet and the growing consumerism has meant that these services stand democratised and accessible across tiers.
Whether it is the digital payment system or the digital payment companies providing these services, much work remains to be done. This article discusses the futurism reforms that can pave the way for a positive change in the fintech and digital payment India ecosystem.
Reforms To Propel the Growth of the Fintech Ecosystem
Banks and other financial institutions have been using technology for over 50 years to impart a plethora of their services. However, while the talks had always been about how tech can assist, it is only in the last few years that it has been seen as a critical enabler and not a mere forwarding agent.
With us already having experienced how technology and finance can collaborate to become fintech, it is time we take the next step. Here are some reforms that can help fintech and the digital payment app ecosystem take the next leap successfully.
Development of More Contactless Payment Services
UPI has achieved what blockchain set out to, at least initially. India saw 9.36 billion transactions worth over a whopping INR 10.2 trillion in the first quarter of 2022. As per NPCI, there are currently 338 banks live on the UPI interface for the month ended July 2022, and the number has grown over 2x in the last two years.
We can innovate and find additional use cases to help it reach new levels. So, for example, the metro rail system in India can be digitised in the same way as Tokyo and London Metro; UPI can be a central propeller for the same.
Development of Super Applications
Applications like WeChat of China have streamlined digital payment services in several countries and continue to find innovative use cases. However, if digital payment companies in India genuinely want to revolutionise online payments, they would require collaborating with major banks, helping them develop flexible solutions.
Banks, especially private ones, such as ICICI and HDFC, can partner with leading digital payment companies in India to establish digital payment systems that are more than mere enablers of digital transactions.
Development of PCR
PCR or Public Credit Registry is an endeavour to ensure financial inclusivity and the flow of credit to last-mile customers. RBI will likely announce its plan to launch it by the end of 2022; once established, it would be a comprehensive database of information on all credit relationships in the country. Such a database would enable fintechs to make more informed decisions and minimise financing pitfalls.
Adoption of Future Pay or BNPL
Credit cards are not accessible for all the tiers in our economy, which is a known fact. Therefore, there lies a massive gap which solutions, such as BNPL, can fill. Unlike the constraints of credit cards and their approval, BNPL is accessible to all. In addition, it provides many benefits for customers and merchants alike.
So, with the expected growth of eCommerce in India, the government should also push for establishing digital payment companies. In addition, it can further encourage the adoption of buy now, pay later, and similar credit solutions to help fintech expand rapidly and with greater conviction.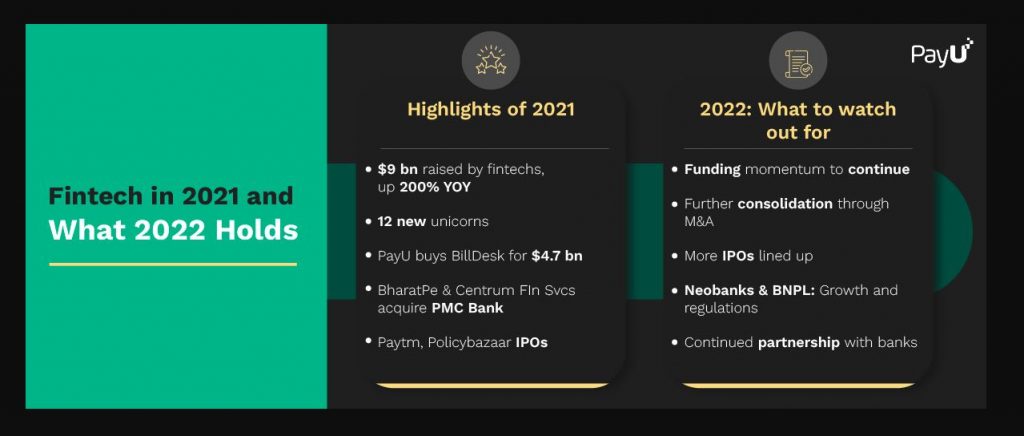 Wrap Up
While the scope of growth is vast for the digital India payment app landscape and fintech, banks must lend a strong supporting hand and convince users to help adoption. However, with more and more people adopting digital payments in the country, it should not be a tough ask.
As for the fintech merchants, if you are having trouble with payments, PayU India has many payment solutions built exclusively for you. With 100% online onboarding and the trust of over 5 lakh satisfied customers, we are well-placed to help you attain the scale you are looking for.
Click here to get in touch with PayU India today.
FAQs
Will fintechs replace banking players in India?
It is improbable for fintechs to replace the well-establishing banking system in the country in the near future. 
Why are we banking so heavily on fintechs?
Traditional banking failed to touch certain sections of society. However, with fintechs' rise and expansion of digital payment in India, these sections can access savings accounts and credit without bias.